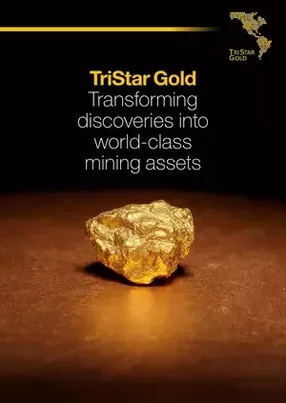 TriStar Gold: transforming discoveries into world-class mining assets
TriStar Gold takes exploration projects and finds great potential to become globally successful operations...
TriStar Gold is a mineral exploration company listed on the Toronto Venture Exchange that focuses on advancing mining projects from exploration through to production.
Through its flagship asset, the Castelo de Sonhos gold project, the company currently has its sights set firmly on precious metals deposits in the Americas that have the potential to become globally significant producing mines. Castelo de Sonhos, located in the southwestern Para state in Brazil, has the potential to be just that.
But the deposit itself was very nearly overlooked.
"We looked at the company's technical reports and skimmed through it and came to the conclusion that actually, this is only a small deposit with limited potential," says Nick Appleyard, President and CEO of TriStar Gold.
"It was only when another member of our executive board took a look at it and realised we'd got it wrong."
The company realised the need to refocus the story so they boldly published the exploration target range in March of 2016, using a combination of grass roots geology, oil industry modeling technology and advanced mathematical modeling.
"We really switched from that small mine mentality to looking at a big production scenario and the project meets our mantra of trying to produce 150,000 ounces of gold a year over the next 10 years," says Appleyard.
"It became a process then really of understanding the geology better than the previous management which in turn means we can explain that geology to the market and back it up with a mine model that works."
Appleyard entered TriStar Gold back in December 2015 with his management team, a talented group of individuals with significant experience in resource estimation, engineering, law, financial expertise and the establishing successful mines all over the world.
The new management team's first task was to look at this deposit, the Castelo de Sonhos gold project, and retell the story behind it. This started with the publishing of a voluntary technical report to really showcase the geology of the deposit and highlight that in actual fact, this is a deposit that could become something hugely significant.
"Our report confirmed the geology of the deposit and the strong model we could build and work with," Appleyard says. "We continued to tell the story based on the technical report, and we also authored and presented a peer reviewed paper, so this wasn't just company arm-waving."
Throughout the course of the next 12 months, TriStar raised $4.3mn and invested it into an initial drilling programme. Fast forward again to 2017, following the raising of further $5mn, TriStar has already made a significant development to what was already a notably sized deposit.
"When you look at it, what we've done is we raised $11mn, completed two drilling campaigns and taken the resource from 280,000 ounces to more than 1.5mn," says Appleyard. The resource has been verified through an independent resource estimation by CSA Global in September 2017.
"To have done that in two years is an amazing amount of work and we can be very proud of what we've achieved to date."
No success story is ever truly achieved without hurdles and challenges along the way and despite the clear and present success that Appleyard and TriStar have achieved, he admits that the company's challenges are not unique to TriStar but challenges that most junior mining companies face.
"It's hard to raise money in the junior mining space," concedes Appleyard. "It's particularly difficult when we are basing it on a concept and a potential model."
This is where Appleyard and TriStar can boast about the talented leadership team at its disposal as the company found that when attracting investors, while there was a focus on financial return, the significance of the team itself and investing in the people of TriStar cannot be understated.
"With investors it's quite rare for them to be as technically minded as the operating team or our board," he says. "But over time we started attracting investors who bought into our team and our expertise, who we could sit down with and talk technical details. They understood what we were trying to do and how we were going to do it and that's down to our team."
Throughout this two-year period, TriStar has been able to work with and test innovative technologies, from drilling techniques to data capture. In an industry that is often labelled as lagging behind others on the technology and innovation front, TriStar can be proud.
This is where TriStar has established key partnerships in order to enable this innovative approach to the Castelo de Sonhos gold project.
One such technology has been the use of an optical televiewer that captures a high definition image of the inside of a drill hole. This, Appleyard states, allows for a much more accurate measurement tool while using cost effective RC drilling.
"We can measure every measurable feature in that drill hole," says Appleyard. "It's incredibly more effective and useful than simply taking readings from a traditional core."
For this, TriStar partnered with DGI Geoscience, global leader in data collection, processing, interpretation and integration. DGI provides multidisciplinary analysis to maximise the investment in drilling.
See also:
But it's not only DGI that provides data with a purpose, TriStar also works closely with ALS Global to obtain better estimations of its gold grade samples.
For Appleyard, the results speak for themselves. "It allows us to reduce our costs and complete our analysis much faster, which is massive for a mining company," he says. "We're getting data but it's better data."
This approach to technology is something that Appleyard believes is becoming more and more common across the global sector. With technology, there comes risk and the mining industry has been known to be a fairly risk-averse industry.
But Appleyard believes that companies like TriStar that are willing to take a risk and to be ambitious and open to the use of technology can be looked upon as examples of where taking that risk can reap huge rewards.
This is not to say that Appleyard himself has not felt the pressure that comes from that risk averse mindset.
"Of course, there was pressure," he says. "Stakeholders, people inside the company, they weren't too sure as to whether we should move away from our core drilling to utilising these innovative technological solutions."
"Mining has operated the same way for the last 20 years, so why change it? I do see that there is some resistance still, but I think the industry needs players like TriStar to go out there, take those risks, use technologies and prove that they can be successful as we have done with Castelo de Sonhos. That's the true message that I feel people should take away from this."
In just two short years, TriStar has achieved huge successes with Castelo de Sonhos. The very strength of TriStar is moving significant discoveries through to becoming significant mines. With Castelo de Sonhos, TriStar is well on its way.
The next step for the company is to find a mine operator that wants to add it to its portfolio. Beyond this, the company is prepared to take Castelo into production as the mine operator should it choose to do so, but Appleyard remains true to the company's model of finding new projects.
"We are always looking, always discussing with people about what's new," he says.
"Getting it right with Castelo is the first step. We need to unlock the value in this exceptional deposit, allowing us to show great returns to our shareholders and giving us a stronger currency for acquiring the next deposit.
"Because there's not many that are just sitting around of this quality, and at the price we got this one."