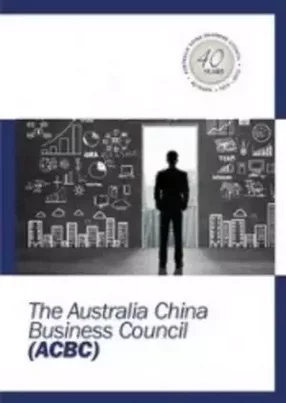 The Australia China Business Council is a member-based not-for-profit organisation with over 1000 corporate members, 3000 individual members and a...
The Australia China Business Council is a member-based not-for-profit organisation with over 1000 corporate members, 3000 individual members and a mailing list of over 20,000 subscribers.
Founded in 1973, Australia China Business Council actively promotes two-way trade and investment, and economic cooperation and understanding, between the business communities of Australia and China.
ACBC plays an influential role as an advisor to the Australian Government on commercial relations with China. We are a strong supporter of a comprehensive Free Trade Agreement between Australia and China to foster more competitive business in both nations.
With a National Office plus six Branch Offices in New South Wales, Northern Territory, Queensland, South Australia, Western Australia and Victoria, ACBC provides regular business-focused activities for our members. We also host a series of national events each year which include a day of networking in Canberra to meet with Australian Government Ministers and senior officials, and the annual China Oration given by an outstanding Australian or international China expert.
In addition to this, the Australia China Business Council convenes the Australia China Economic and Trade Forum. Taking place in Sydney, Canberra, and Beijing in 2009, 2010 and 2011 and 2013, the ACETF is the premier platform for large scale public dialogue on the Sino-Australian trade and investment relationship.
The Forum's over 1900 participants have included senior representatives from politics, government, industry, academia and the media from both countries. Speakers have included The Hon Kevin Rudd MP, Prime Minister of Australia, The Hon Julia Gillard MP, former Prime Minister of Australia, Xi Jinping, President of the People's Republic of
China, Li Keqiang, Premier of the People's Republic of China and many more.
We collaborate with our members on events, thought leadership and practice-oriented knowledge exchange. Our members form an extraordinarily valuable data-bank of expertise and experiences within the Australia - China economic relationship. We gather this knowledge to extract successful case studies and other useful data which provides an accurate reflection of the Australia China economic relationship.
Sectors of strong focus for the ACBC include energy and resources, agribusiness, financial services, tourism and education, though as the Australia China relationship diversifies, so does our membership and our focus. Newer sectors of importance include creative industries, science, research and development.
The Australia China Business Council has close links with expatriate groups in China, as well as with Chinese groups and officials, and leads trade missions to China from time to time.
ACBC aims to improve business communication between Australia and China. Our tasks span widely from hosting information sessions and round tables, establishing bilateral communication opportunities, and representing members' views with regard to promoting Australia's commercial interests in China. ACBC provides the Australian business community with information programs and communication opportunities with the purpose to connect China business activities and their peers. The majority of our events focus on communication within senior contacts from the Australian and Chinese Governments. Furthermore, we represent members' views to Australian and Chinese policy makers and act as a bilateral conduit between both governments and business community. We develop and maintain a high level of support for the promotion of Australia's commercial interests in China and for the Council's activities from the Australian and Chinese governments and collaborate with relevant government programs. Due to the cultural differences, the ACBC also promotes business education programs on how to do business in China, which significantly benefit our members.
The National Chairman is the spokesperson for the Australia China Business Council. For more information or any media enquiries, please contact the National Secretariat on T:  +612 9252 4277 or   Email:  [email protected]