ABB and Norge Mining to develop an electric mine in Norway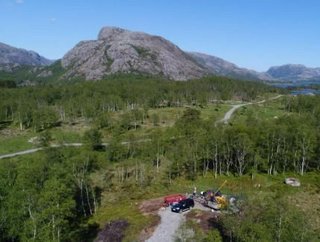 Drilling at Norge Mining's Bjerkreim site
Norge Mining and ABB will design a next-generation mine to help meet Europe's energy transition ambitions and create secure mineral supply chains
Mining is a nascent industry in Norway, a country that is sitting on large, untapped mineral deposits, according to investigations so far. An Anglo-Norwegian business, Norge Mining is focusing its efforts on three high worldwide demand resources: vanadium, phosphate and titanium. However "considerate mining" in collaboration and constant communication with local neighbourhoods is at the core of this company's business model. Using innovation and technology, it aims to minimise any environmental impact.
Phosphate deposits in southern Norway
Norge Mining recently completed its exploration of a phosphate deposit in southern Norway, where it discovered more than 70bn tons of a mineral that is strategically vital to European countries. Now ABB and Norge Mining are collaborating to conduct a front-end engineering and design (FEED) study for a future Norwegian upstream mine production which has the potential to supply minerals used in electric vehicles and solar panels needed for the clean energy revolution, and fertiliser demand, for at least 50 years. The deposit contains large resources of phosphate, titanium, vanadium and subsequently phosphorus – four key EU-designated critical raw minerals that are essential for the clean energy transition and global food security. The mine in the region of Bjerkhreim is projected to start operations in 2028. ABB will conduct the engineering study and design electrification, automation and digital blueprint of the proposed mine.
Phosphate is processed and used to produce lithium-ion phosphate (LFP) batteries as well as fertiliser for the agriculture industry and is in high demand, with a recent US Geological Survey indicating phosphate reserves prior at 71 billion tons globally. Vanadium is key to the development of vanadium redox battery (VRB) technology which offers many advantages over lithium-ion and promises more.
"Norge Mining's transformative partnership with ABB marks a new era for more sustainable, resource-efficient mining," said Michael Wurmser, founder of Norge Mining. "Together, we're aiming to power progress through next-generation mining. With Norge Mining's portfolio of significant, critical and strategic raw minerals, it will make significant global impacts on enabling food production and supplying the European battery manufacturing industry."
A sustainable and resource-efficient future
ABB needs no introduction as a technology leader in electrification and automation, enabling a more sustainable and resource-efficient future. The company's solutions connect engineering know-how and software to optimise how things are manufactured, moved, powered and operated. "ABB is excited to begin this important project with Norge Mining, one that is anticipated to have a positive impact on European supply chains for the energy transition," said Alex Kaufmann, a mining business manager at ABB. "Through our early involvement, as well as our expertise in design and solutions for mining, we will support Norge Mining to optimise costs both during the construction phase as well as during the operation of the mine. Furthermore, our eMine approach for electrification and automation, which makes mines all-electric and includes integrated solutions that help eliminate CO2 emissions, will help to increase the mine's efficiency and ensure energy efficient and seamlessly integrated systems across the entire plant."
ABB and Norge Mining will explore the entire electrification of future mining and downstream operations including control system options to provide a complete overview of the mine and seamlessly integrate advanced operations. The ABB study will address electrification, automation and digitalisation to ensure maximum sustainability, cost-efficiency and productivity at the mine from the outset and for the long term. ABB's recommendations will also focus on low energy consumption within mine operations as well as optimising CAPEX and lowering OPEX with solutions for lower maintenance and higher efficiency.