Supply Chain & Operations
Arnold Magnetic Technologies & Cyclic Materials to partner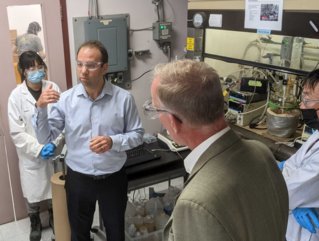 . Arnold sees its material ESG factors as critical to driving long-term value and increased commitment to core values
The companies will develop a Rare Earth circular supply chain, ensuring the sustainability of a quickly growing industry reliant on these materials
Arnold Magnetic Technologies Corporation, a global leader in producing high-performance magnets for mission-critical applications and a subsidiary of Compass Diversified, has formed a partnership with Cyclic Materials, a company focused on developing sustainable domestic supply chains for rare earth elements. Together, they plan to create a rare earth recycling program, establishing a circular supply chain for rare earth materials that has never been seen before.
Arnold creates permanent magnets from rare earth materials, and Cyclic Materials is able to recycle all elements from Arnold's supply feed to provide a wider range of recycled materials at a higher yield. This allows Arnold to source recycled rare earth materials, including Samarium, Neodymium, and Dysprosium, as well as non-rare earth cobalt from Cyclic Materials, creating a North American supply source. This partnership is currently being explored for expansion to other North American locations.
Rare earth magnets are used in many applications, particularly in electric motor applications due to their power-dense material characteristics and lightweight composition. By utilizing recycled rare earth materials, Arnold will increase the sustainability of electric motors and other products.
The current rare earth supply chains are heavily dependent on China. With this partnership, Arnold and Cyclic Materials aim to increase supply chain efficiency by adding value through recycling, reducing waste and environmental impact. This will make Arnold's supply chain more resilient, offering greater capacity and flexibility for production and decreasing dependence on foreign nations for these materials.
"We're thrilled to sign this agreement with Arnold Magnetic Technologies to enhance the sustainability and flexibility of their supply chain while continuing to demonstrate the advantages of a circular supply chain for rare earth elements in North America. We look forward to the future of this partnership as we continue in our work to help the world transition to an environmentally responsible future," said Patrick Nee, Co-founder and VP of Strategic Partnerships at Cyclic Materials.