Extending maintenance intervals with ultra-hard wearfacings
By Daniel Hoekfors, Technical Application Specialist at Castolin Eutectic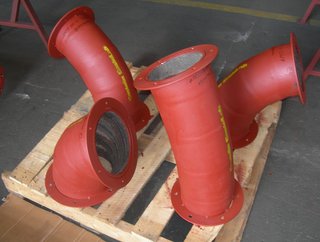 Pipe elbows with wear-resistant liners have doubled the maintenance interval on a bentonite transfer pipe
Hans Bengtsson and Daniel Hoekfors explain how wear-resistant materials are overcoming challenges from wear and abrasion at iron ore mines in the Nordics
Components in mining experience extreme abrasion. This is particularly the case when handling the largest and smallest material. Wear is felt most strongly by the feeders, sieves and chutes that handle large rocks, as well as equipment that handles abrasive fines at high speed.
Hans Bengtsson, Managing Director of Scandinavia and Daniel Hoekfors, Technical Application Specialist at Castolin Eutectic, explain how wear-resistant materials are overcoming challenges from wear and abrasion at iron ore mines in the Nordics.
The importance of choosing the right materials
Materials such as tungsten carbide or chromium carbide can be used as wearfacing coatings to extend the lifetime of critical equipment in the most abrasive applications in mining. The choice of material and coating technology varies widely, depending on the type of application and the nature of the wear.
Heavy plates are useful at the first stage of crushing and material processing. This requires materials that can withstand constant impact and abrasion forces from rapid throughput of heavy stones of 150 mm and larger. Some operators have found that hardened steel components experience accelerated wear in equipment such as table feeders and chutes and that ultra-hard plate can last five times longer.
At the other end of the spectrum, wearfacings can be formed into pipe linings when handling bentonite, an abrasive powdered product that is combined with iron ore to produce pellets. Bentonite is transported as a powder through pipelines before blending with iron ore and water to create an even mix for pellets.
One mine in the Nordics was experiencing extreme wear that triggered the replacement of pipe bends every 4-6 weeks on a bentonite intake pipe. As well as requiring frequent replacement parts, the failures of the pipe elbows also led to a need for extensive and costly clean-up operations as bentonite becomes sticky when it comes into contact with moisture.
The mine owner wanted a longer-lasting solution to prevent wear and resulting leakage. It called us in to recommend a new course of action. We replaced the existing pipe bends with new CastoTube pipe elbows with an erosion-resistant lining to provide a longer service life. At the same time, we took the opportunity to increase the diameter of these critical pipe sections from 80 to 100 mm to slow down the flow rate of abrasive powder.
Since the project, the operator has only replaced the upgraded pipe bends four times over a seven-year period, creating a significant OPEX (operational expenditure) saving and protecting continuity.
The same type of material can be applied as a wear-resistant coating in other applications, such as the mixing arms in the blending machines that mix bentonite with iron ore fines and water. One mine operator found that by relying on original parts from the manufacturer, it needed to replace half of its mixer arms due to heavy wear every six months in a 24-hour stoppage.
In May 2022, it wanted a more robust solution and called us in for a trial. We applied a tungsten carbide coating in spray form. This used a mix of fine and coarse particles to give the mixer arms a dense coating that is very robust and resists spalling. After nine months of operation, an inspection found that none of the mixer arms needed replacement and the mine owner estimated that the upgraded arms will provide two years of life.
We have also used similar material in the form of CDP wearplates to line a cement mixer that produces material for reinforcing walls in a deep mine. Having re-lined the cement mixer with our ultra-hard wearplates, only 2 mm wear was measured after processing 90,000 m3 of cement, which was only half the wear rate of the original hardened steel liner.
Wear on fans can also present major challenges when their components are exposed to abrasive particles at high speed. In one case, we've helped an operator resolve several wear-related issues with a 2.8 m diameter fan turning at 900 rpm to extract dusty air from the hot side in the process plant at 200-400 °C.
Initially, the operator found that they needed to replace the carbon steel impeller every few weeks due to extreme wear on the blades. Upgrading to a hardened steel extended the service life to five months – but the operator wanted to extend this significantly to minimize outages.
To achieve this, we applied wearfacing coating to the blades with a special welding technique. This created a coating that could withstand the high-velocity impact of abrasive particles. This extended the life of the blades significantly but after 11 months, the operator identified excessive wear on the impeller's centre wheel. We overcame this by applying small wearplates to the entire centre wheel and the upgraded impeller now provides a service life of three years.
Ultimately, high flow rates of abrasive materials will cause wear when impact forces are high but it's possible to upgrade to ultra-hard and tough materials for critical components to extend service intervals and gain a longer service life from assets.