Supply Chain & Operations
Tin production at Andrada Mining reaches record levels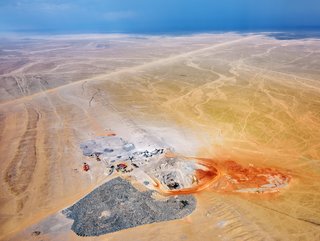 Andrada's record production has been attributed to the company's processing plant operating at "record levels."
Andrada Mining announced record tin production at its Namibia operations as the company plans to raise funds to become a bulk lithium producer soon
Andrada Mining, the UK-based African technology metals mining company with a portfolio of mining and exploration assets in Namibia, has posted a record level of tin-in-concentrate production in the first quarter of 2023. The company announced that it extracted 216 tonnes (t) of tin-metal volume in the first quarter of the year from its Namibian Uis mine.
This represents a 42% year-on-year increase from last year's extraction of 152 tonnes. In the same period ending 31 May 2023, it also saw a 50% increase in tin concentrate from 239t in the previous year to 339t this year. Aside from the increased production, the company's first-quarter operational update highlighted improved safety performance.
Andrada's record production has been attributed to the company's processing plant operating at "record levels." The plant processed 135 tonnes per hour (mph) in Q1 2023, a 36% increase from the previous year and 8% higher than the previous quarter. Despite the increased costs because of the increased stripping ratio, Q1 2023's production still came at a cost below the projected figures.
Speaking about the results, Anthony Viljoen, Andrada CEO, said, "The milestones achieved during the quarter have laid the necessary foundation for the accelerated growth we expect for the balance of the financial year… We are pleased with the significant efficiencies achieved with the increased production of tin concentrate and the lower-than-expected cash cost increases [quarter on quarter]."
What's more from Andrada?
The company also revealed that it is currently testing for potential lithium operations at the Uis project. In the CEO's comment, he said, "We have demonstrated the ability to produce saleable lithium concentrate. The completion of our on-site bulk-sampling plant remains on track for completion this month and will expedite the metallurgical test work required to bring lithium revenues on-stream."
He explained, "The ongoing strategic process to identify a partner for the lithium development is going well and will transform Andrada from being a fledging developer to a fully-fledged miner of technology metals."
Andrada's record in production is expected to boost the tin industry, which is expecting a significant shortfall with the coming suspension of mining operations in Myanmar's Wa state. Anthony Viljoen stated the company's commitment to keeping costs within the lower range of guidance and its ability to secure an investment this month for its lithium uptake this year.
"We have been encouraged by the level of interest from potential lithium partners globally and are confident of being able to conclude an attractive transaction for shareholders and broader stakeholders this year," he said.