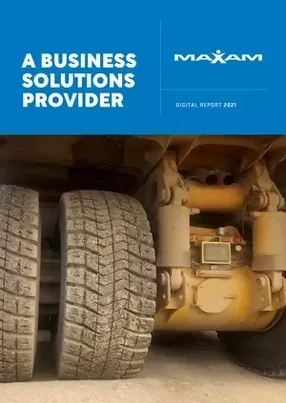 Maxam Mining Group: treading a reliable path
Maxam Tire brings decades of experience in the tire industry to push the boundaries for continuous improvement in mining with R&D innovation
A dedicated global group under Maxam Tire, Maxam Mining Group (MMG) was created in 2019 to specifically focus on the open pit mining segment, boasting a team of committed and knowledgeable experts with decades of experience in the field coupled with the ambition and drive to exceed expectations. Maxam has appointed talents globally to meet the highest standards of customer experience. Each MMG team member has over 15 years of experience in the off-the-road (OTR) tire industry with a proven record of delivering accelerated business performance and growth to a customer's business. That experience working for top-tier tire manufacturers and dealers underpins the ability to provide knowledgeable support to customers in every aspect of the mining business. 
"All members of the MMG team aim to ensure customers have the top-tier solution to meet their needs," confirms Vice President Matt Johnson. "They work with the engineering team by learning each mine site's requirements and goals first. A strategic plan with specific products and compounds, along with expected performance and hours, is then proposed to customers for their consideration. Once a customer accepts Maxam's proposal and initial product placements, the company and dealer network will continue to make scheduled monthly visits to monitor its products, along with providing any helpful maintenance tips to maximise tire life and operation.
"Every site visit is completed and submitted back to the customer with a data review. The process of on-site review, proposal and monitoring demonstrates our commitment to customers along with our ambition to earn their confidence. We want customers to see Maxam as more than a tire supplier; we are a trusted partner delivering guaranteed performance and dedicated support. 
"My role in the company is to drive and continue the fostering of these long-term, mutually beneficial business relationships with our customers by concentrating the global MMG team to prioritise customers. While each region has its own strategic approach, we focus on delivering solutions with the lowest cost-per-hour/ton to mine sites."
Mining business solutions
The tire industry has long been dominated by Goodyear, Michelin and Bridgestone – a dominance that also transitioned to the mining industry. "When I joined the company, I quickly realised they were going after something different," counters Johnson. "Maxam was focused on building a quality product and chasing down the tier-one level position. They wanted good market recognition, and they were standing behind every facet of support to achieve that and never losing sight of what comes first – the customer and our employees."
Johnson believes for Maxam to be truly successful, his team must first understand the customer's goals because only then can they focus on their needs. "We strive to be a true business partner, not a tire sales force. We have built the MMG to become a business solutions provider."
A customer-centric approach
"We live and breathe the customer-centric approach in every aspect," maintains Johnson. "For example, one of the most important elements in a mining tire is compounding. It has a direct correlation to the performance of the tire and whether it meets the need of a particular mine site. Maxam's engineering team has a dedicated rubber compound research group. Working directly with the sales team, they provide customers with product performance feedback, while our rubber compound research engineers are constantly developing new ways to increase energy and savings in mixing and polymer structure advancement."
Maxam's engineering team factors in the needs of each mine site to meet its requirements and goals. "A strategic plan with specific products and compounds, along with expected performance and hours, can then be proposed," explains Johnson. "Once a customer accepts Maxam's proposal and initial product placements, we continue to make frequent visits to monitor the solutions chosen, along with providing any helpful maintenance tips to maximise tire life and operation. Every site visit is completed and submitted back to the customer with a data review. Our customers see Maxam as more than just a tire supplier, but a trusted partner delivering guaranteed performance and dedicated support."
R&D
Maxam prides itself on innovative R&D and state-of-the-art manufacturing to support product performance with its raw materials, compounding, synthetic rubber technology, competitive analysis, tire design and simulation modelling. "All Maxam's engineering and R&D teams are fully integrated with our factory's quality assurance and product development operations to optimise quality and performance," pledges Johnson. "We have global R&D centres dedicated to understanding each local user's specific demands. We believe in investing in state-of-the-art manufacturing for product consistency in quality and performance."
"We're analysing and setting our treads, and our new tread designs are out," adds the passionate VP. "Currently, we have the largest footprint of tread designs there is in the whole industry. We're not always going to be in this position, but we are actively tracking every single tire in the field to get a wide array of understanding of how these tires perform in different situations; from soft underfoot to hard rock or high-speed and high temps to low speed and heavy haul. We're tracking this alongside our site studies. At the end of that process, we analyse all the information to help us select what works best to slim down our tread count and improve our efficiencies at the plant, which will ultimately help our customers."
All of Maxam's large mining and some radial OTR (off the road) tires are formed in positive crown drums that build the tires in a shape closer to their finished profile, ensuring components are minimally disturbed during the curing process. "Maxam runs its own natural rubber processing plant in Asia to fully control the quality of our rubber in addition to working with the top-tier raw material suppliers," adds Johnson. "With our technical excellence supplemented by the advanced engineering, all these aspects are integrated to deliver improved safety, product performance and consistent quality for our customers. 'Quality that drives productivity' is one of our fundamental beliefs at Maxam." 
Partnering for success
Achieving the lowest cost-per-hour/ton with a performance on-par with tier-one tires, Maxam is partnering with the likes of Caterpillar® with its OTR tires approved on their medium wheel loaders. "We understand the need for equipment to evolve in parallel to today's demands," assures Johnson. "A prime example of this is our recent approval of the 65-series medium wheel loader tire, the MS405, validated and approved for the 982M loaders. With the increasing demands of the mining industry, tires are working harder and longer hours to keep up with the more advanced equipment. This goes back to our continuous commitment to improve the performance of our tires for leading equipment OEM manufacturers, such as Caterpillar, so that the tires match the performance of their machines and meet customer expectations." 
Treading a path to success
Maxam was named the best overall vendor for Purcell, one of the largest global dealerships, in 2020. In addition, it is one of the sole suppliers for Kal Tire in both Canada and Australia, a major global dealer in the mining industry. "We've also been receiving excellent performance feedbacks with the lowest cost-per-hour from customers," notes Johnson. "For example, our placement in a mine site in Canada in 2015 began with a program target for Maxam to reach 4,200 hours. Within the first nine months of initial placement, Maxam's tires have been proving the performance initially promised, according to the customers, while competing against leading manufacturers at the same site. Based on the data in the first nine months, our products performed closely with our leading competitor's performance but at a lower cost-per-hour. In the first two years of placement, we received excellent feedback and have positioned an additional 124 tires (112 pieces of the Maxam MS402 and 12 pieces of the Maxam MS401). By August of 2017, MMG held approximately 75% of the entire CAT 777 fleet in this mine."
2021 and beyond…
MMG is proud to be exhibiting its new mining series tires at this year's MineExpo in Las Vegas. "We'll also be unveiling our 63" tire, the largest tire in the world," says Johnson. "To show that we're a full-range supplier for the speciality tire industry, we'll also be demonstrating our wheel loader radial tires and underground mining tires that many mining operations now utilise. It's a major opportunity to connect with our customers and display various types of solutions we can offer to the industry."
MMG is expanding globally and aims to become a first-choice supplier for mine sites. "Many of our tires are now competing on-par with other tier-one manufacturers tires, and customers are starting to see the value in choosing Maxam," says a proud Johnson. With his detail-oriented and dedicated team, building confidence and focused on fostering successful business relationships, along with guaranteed performance, MMG's customers can expect a smooth journey on the road ahead.