Newcrest plans to fund extensive JV exploration program in Tanami and West Arunta, WA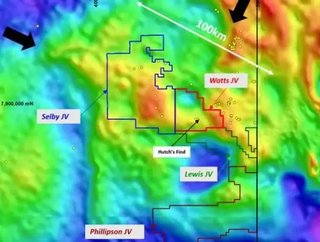 Newcrest will sole fund a series of exploration joint venture programs with Encounter Resources in 2019. Encounter and Newcrest have five joint venture...
Newcrest will sole fund a series of exploration joint venture programs with Encounter Resources in 2019.
Encounter and Newcrest have five joint ventures that cover a total of 5,900km2 of the Tanami and West Arunta Provinces in Western Australia. The Selby, Watts and Lewis joint ventures cover, in total, 100km of strike along the major structural corridor (Trans-Tanami Structure) that extends through the Tanami region from the Northern Territory into WA. 
Encounter Managing Director Will Robinson commented:"The hunt is on for the next game changing gold discovery in Australia. Major exploration programs are planned across the Tanami and the West Arunta to test a number of well-defined, advanced targets in 2019.
These projects have the potential to host gold deposits of scale that appeal to Newcrest and, as such, they provide Encounter shareholders with significant leverage to a pipeline of potential Tier 1 projects fully funded by a major gold producer." 
Related stories:
The JVs, named Selby, Watts, Lewis, Phillipson and Aileron, were approved in May 2018. Details of the joint ventures are as follows: 
1. Watts Joint Venture (Tanami) 
The Watts joint venture covers the central corridor of targets where a regional scale north-north-east structure gravity survey intersects the Trans-Tamami Structure including the Hutch's Find and Sunset Ridge prospects. A sizeable program of RC/diamond drilling is planned for the Hutch's Find and Sunset Ridge prospects in 2019. This planned program is scheduled to commence following the completion of a heritage survey. 
Hutch's Find offers a significant zone of gold/arsenic anomalism over 5km of strike. 
Sunset Ridge is a 2.5km long arsenic anomaly defined in shallow drilling.
2. Selby Joint Venture (Tanami) 
The Selby joint venture covers the western end of the West Tanami project. Selby includes a number of regional scale geochemical anomalies defined in shallow drilling, discrete geophysical targets and historical high grade gold intersections in limited deeper drilling. While target generation and prioritisation is ongoing, current high priority prospects at Selby that are scheduled for RC drilling in 2019 include:
Mohave Prospect – a +7km long gold-arsenic anomaly that includes thick mineralised drill intersections strengthening at bottom of hole at the east of the prospect. 
Afghan Prospect – a +7.5km long gold anomaly in shallow RAB drilling.
3. Aileron Joint Venture (West Arunta) 
The Aileron joint venture is located in the Arunta district of WA, ~600km west of Alice Springs. There has been no previous mineral exploration on the project, although gold/copper anomalism has been identified within the region. The project contains a number of existing structural targets identified through aerial magnetic surveying, including a discrete magnetic anomaly consistent with the scale of an Ernest Henry or Carrapateena style system.
4. Phillipson Range Joint Venture (Southern Tanami) 
The Phillipson joint venture consists of three large tenements spanning ~1,570km2. The western end of this area was the subject of a regional scale pre-competitive geochemical soil survey completed by the GSWA that outlined a peak gold soil anomaly up to 63ppb Au in a 5km x 5km helicopter-supported auger sampling survey. On ground assessment and additional geochemical sampling is the next step to validate this standout gold anomaly. 
5. Lewis Joint Venture (Tanami) 
The Lewis joint venture covers over 20km of strike of untested Trans-Tanami Structure. This structure has been enhanced and defined in the GSWA January 2018 gravity survey. Vast areas along this highly prospective structure have never seen a soil sample or a drill hole. This is a first mover opportunity into a newly defined area on a major regional structure. Initial reconnaissance and geochemistry are planned for 2019.