Overcoming challenges in Guinea's mining sector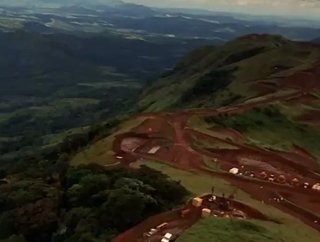 Following Guinea's Symposium of Mines at Conakry in April, Mining Global hears from Minister of Mines & Geology Abdoulaye Magassouba about the cha...
Following Guinea's Symposium of Mines at Conakry in April, Mining Global hears from Minister of Mines & Geology Abdoulaye Magassouba about the challenges ahead for the bauxite rich nation, and from industry insiders about the steps required to fulfil the potential of the Africa nation's mineral endowment. 
Mining is Guinea's leading economic force with the large-scale extraction of bauxite and gold responsible for around 13% of its GDP. However, according to the Human Development Index Guinea is ranked 175thof 189 countries and among Africa's poorest. Mining operations require machinery and skills that are not locally available, which means at present jobs in the industry for indigenous people often have low remuneration. While mining is a key contributor to GDP, more investment in infrastructure is required to develop the industry and in turn foster local development. Currently, the mining sector's ability to contribute to local wealth is hampered by the lack of financial instruments to support access to domestic finance for project sponsors.
Speaking in April at Guinea's Symposium of Mines in Conakry, Abdoulaye Magassouba (pictured below, left), Guinea's Minister of Mines & Geology, urged the need for continued investment in the mining sector. "We have gone through a series of reforms in the last eight years. And we've reached a point where we're completing most of these and tackling problems like Ebola. So, we are getting an important amount of direct investment in the mining sector now. The biggest challenge for us is to accelerate approaches to making businesses sustainable in these regions where you have a lot of poverty. Given that mining cannot absorb all the unemployment, we need to be creative and make sure we limit environmental impact. We need to ensure that, on a social and economic level, we have a positive impact with mining operations in these areas that is ultimately sustainable."
Guinea is still a developing country and Magassouba believes it's important for mining companies to join forces with what the states are doing. "Collaboration is what makes projects sustainable because the more you have local people involved, the less commercial risk you have at ground level for those projects," he advises. "Of course, mining companies need to make a profit, that's in their DNA. But it's important that they become development partners to our country, to deliver a positive impact with their projects that will be felt in 20 or even 30 years from now."
How is Magassouba's government tackling corruption and the need for transparency in such a large and important sector for Guinea? "It's a very exposed sector with regard to corruption," he concedes. "What we've done from the beginning, with any misconduct, is directly make sanctions and then made them public. That was very important for me when I was just appointed because it showed people, this is a different way of doing things. Regarding transparency, we need to make sure all stakeholders have access to information because information is for the public good." He believes this is vital and creates a new level of accountability. "With access to information becoming a right, it offers a key support to the reforms we are making," he adds.
Justin Hughes, Head of Aluminium Raw Materials at commodities trader CRU, attended this year's Symposium which brought together government officials, international mining companies, technical specialists, a wide range of domestic industrial partners, and representatives of the agricultural and sustainability sectors. Hughes was impressed by the commitment shown towards promoting the sector in tandem with following a sustainable path capable of supporting the economic development of the nation. "Theministers highlighted the importance of inclusion in profit share, employment, housing and education for the local population," he notes. "Without investment from international mining companies in communities in Guinea, we would certainly expect to see a restriction in permitting, and as such, the role of improving non-industrial infrastructure and other spending continues to be a key part of any operations in the region."
Read the latest issue of Mining Global here
The UK's Department of International Trade (DIT) was a part of the largest non-African delegation at the Symposium. The DIT's Mining Sector Manager Mark Smith believes support from the UK can help deliver long-term economic prosperity while protecting biodiversity, ecosystems and the environment.  "Along with a strong policy and governance framework, clear human rights policies are an essential requirement of investors and capital markets throughout the mining lifecycle," he adds. "Our thinking is aligned with that of Minister Magassouba - responsible mining is the only option for lasting success and the mitigation of long-term risks."
Smith stresses that identifying responsible partners is vital so that sectors such as agriculture can develop to take advantage of the infrastructure built to support the mine: "Multi-user agreements can help deliver opportunity for economic diversification and growth that will endure after the mine has ceased operation," he says. In this area, ImpactAgri (led by Jon White) stands out for its efforts in bringing together major companies, investors and stakeholders to create economically viable, socially inclusive, environmentally sustainable agribusinesses across Africa.
Outlook for Bauxite
Justin Hughes, Head of Aluminium Raw Materials at commodities trader CRU, gives his forecast for Bauxite in Guinea: "The challenge lies not in the further growth in direct mining, but in the increasing pressure from the Guinea government to implement construction projects for alumina refineries - a requirement that comes with a number of technical issues. There appears to be little concern about the need to import coal for fuel, but certainly an awareness of the need for careful consideration of the handling of red mud, especially in areas of agricultural sensitivity. We do see eventual development of deep-water ports, reducing the requirement for trans-shipments, and lowering the cost of bauxite on an FOB basis. Guinea remains front and centre of CRU's view that bauxite supply will grow substantially, primarily from this region, and China will focus on building coastal refineries set to process low-temperature bauxite direct from Guinea, with 70Mty forecast to be shipped by 2023."
Engineering consultants WSP are part of that push to improve infrastructure as part of the government's "growth corridors" strategy and were represented at the Symposium by Karen Dingley (WSP Head of Mining & Water Services); Sandy Burrell (Director in WSP's International Projects Division), who spoke about Infrastructure Planning for mining extraction on a panel examining the proposed central corridor railway, and Jean Boustani (Director, Louis Berger Guinea, recently acquired by WSP) who was also in attendance emphasising WSP's commitment to a local presence in Guinea.
Burrell tells Mining Global there are big challenges ahead for Guinea, but as the government is becoming more experienced in managing the extraction of the country's resources, it is looking for better planning of infrastructure to support the export of ore to markets. "We believe the high quality of the resources in Guinea provides the potential to deliver world-class infrastructure to the country, with careful planning and foresight," says Burrell. "WSP is supporting the mining sector to not only provide technical and environmental support throughout the mining life cycle, but also to plan infrastructure in a managed and coordinated way which not only leaves a legacy for the long-term benefit of the country but is also sensitive to the local environment and surrounding communities."
Burrell applauds the Guinea government's objective to create local jobs and wider economic growth through mining. However, he notes that planning infrastructure well requires global skills and experience, and consequently front-end planning input from experienced international practitioners is necessary. "This must bring with it a commitment from across the industry to employ and train Guinean staff, ensuring that a legacy of a growing skilled workforce is engendered," he adds. "Clearly the potential impacts that irresponsible mining can have upon the natural environment, and the communities that are affected by mining activity, are high on everyone's agenda. It is imperative miners, and their advisors, minimise the impact of their activities and enhance the benefits that international investment into local industry can offer."
Echoing the words of Magassouba, Burrell believes working alongside the government and local people is the best way to ensure investments are optimised. Going forward, it will be up to organisations like Guinea's Chamber of Mines (led by President Malick Ndiaye) to play an intermediary role between the mining industry, the United Nations system working towards its 2030 Sustainable Development Goals (SDGs) and local governments, in order to develop innovative partnerships to realise meaningful development impacts.