Supply Chain & Operations
5 Mins With ... Oliver Hasler, Chief Executive PYX Resources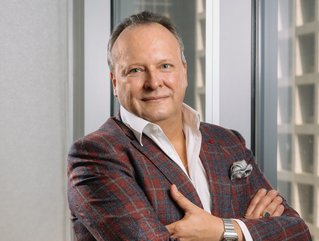 PYX Resources' Chief executive Oliver Hasler explains the potential for zircon as decarbonisation accelerates
PYX Resources is a minerals sands mining company and second largest producing mineral sands company based on zircon resources, which listed in Australia in February 2020 and in late 2021 on the London Stock Exchange. Chief executive Oliver Hasler explains the potential for zircon as decarbonisation accelerates.
What are the advantages of operating a mine in Indonesia despite common misconceptions?

Most of the mineral resources are in development countries such as Latin America, Africa and Southeast Asia, so Indonesia represents a wonderful opportunity. It is a 'Belt and Road' country, plus a strategic ally of China - the world's biggest consumer of mineral sands.
It is considered one of the mineral rich countries by The Organisation for Economic Co-operation and Development and ranked 24th in Global 2020's Best Foreign Direct Investment Opportunities category - one of the highest among all mining jurisdictions and highly ranked in prospective minerals.

Indonesia hosts premium quality deposits with high zircon content on heavy minerals, low radioactivity, low Al 2 O 3 and high whiteness. It has a long history of scientific with exploration activity as far back as the 1800s and low exploration costs.
As well as low labour costs, investments into mining projects are well protected, especially after the introduction of the IUP-OP regime in 2009 - a mining business licence replacing the Contract of Work.
Mandiri and Tisma – covering an area of 2,032 and 1,500 hectares in Central Kalimantan – are devoted to the exploration of mineral sands products and the production and export of premium 65.5 grade zircon.​​​​​​​

How important are critical minerals including zircon to the net zero transition?

Currently, governments have set the year 2050 as the goal for Net-Zero emissions and various technologies are essential to this goal including solar cells, nuclear energy, and catalysis – all of which are utilising zircon in their manufacture.

The Australian government has classed zirconium as a crucial mineral vital for the economic well-being of the world's major and emerging economies. As the world moves toward decarbonisation, the demand for Zircon is expected to continue to surge ahead.

Zircon is also finding its way into a variety of modern technologies and is becoming more prominent as a casing material for 5G smartphones and a framework material for 3D printing.

What is your vision for PYX for the next 5 years?

We have a very profitable business plan resulting from production volume increases and estimated cost reductions of circa. US$700/t as we reduce our reliance on contractors and introduce in-house mining.

In addition, we are planning to start mining on our newly acquired second tenement, Tisma, to accelerate our growth and capitalise on current robust market conditions in the mineral sands space.
How do you feel your professional background of transforming companies has helped you surmount challenges faced at PYX?

My leadership skills have been put to the test at several high-profile companies, which allowed me to make a name for myself as a 'transformational CEO'.

Throughout my 30-year career, I have been an accomplished chief executive, president and company board member, successful in leading world-class companies across consumer, food service/Out of Home, B2B and industrial sectors.
Amongst other achievements, I helped redefine the strategy of Douwe Egberts' professional division and its joint venture with US-based Mondelez, and led the restructuring of Arc International, the French tableware glass giant.

Most recently, I successfully managed the four-year transformation of Europac from a small cap, publicly traded Spanish firm (Papeles y Cartones de Europa S.A.) into a mid-cap international player and four folding its share price, before selling it for $2bn.

I have used all my experience to create PYX Resources, the world's second largest producer of Zircon by JORC approved resources at 263.5Mt.
In a two-year period, we listed in Australia and the main market of the LSE; acquired a second mineral sands tenement in Indonesia, increased PYX's market cap five-fold; drastically increased production of our premium zircon; started production of rutile and ilmenite and created and implemented a very strong five-year business plan.

How did the LSE listing impact PYX?

We are very happy with our listing on LSE which has raised our visibility, broadened our investor base and given us access to a strong network of brokers, analysts and institutional investors and given us access to a highly liquid market in Europe.

What is the main value proposition for investing in PYX?

We have a very profitable business plan based on sales of 48kt/year, generating 60% EBITDA and resulting with strong additional upsides through volume increase, drastic cost reduction and production of by-products rutile and ilmenite.

Strategically, we can acquire additional mines and become the consolidator of the mineral sands business in Kalimantan, Indonesia and we also have strong share price upside.