Supply Chain & Operations
Alamos Gold Phase 3+ plan for Island Gold ups value to $2bn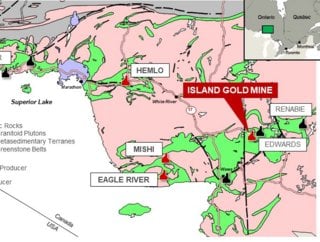 Alamos Gold's Phase 3+ expansion study of the Island Gold Mine in Ontario raises operations to 2,400 tonnes per day
Alamos Gold's Phase 3+ expansion study of the Island Gold Mine in Ontario will raise operations to 2,400 tonnes per day, a 22% increase from the P3 2000 Study and 121% increase from the mid-point of 2022 production guidance of 130,000 ounces.
John A. McCluskey, President and CEO, said the planned Phase 3+ expansion drives the value of Island Gold to $2bn at current gold prices with an after-tax net present value of $1.6bn, up 25%.
Mineral Reserves and Resources have increased to 5.1mn, taking the 18-year mine life to 2039, a four year increase from the P3 2000 Study.
A mineable resource totaling 13.6mn tonnes, grading 10.59 g/t Au containing 4.6mn ounces of gold, has been included in the new study, representing a 43% increase.
"As a producing mine with a well-understood cost structure, this expansion is low risk from an execution perspective, and has a significantly reduced carbon footprint," he said.
"The exploration story continues to unfold with a Mineral Reserve and Resource base that has nearly tripled over the past four years, and with the deposit open laterally and down-plunge, we expect Island Gold will be one of the lowest cost and most profitable mines for decades to come."
Alamos Gold cited increased growth capital of $756mn and sustaining capital of $777mn, reflecting the expansion, a larger mineable resource, and industry-wide inflation.
Total capital intensity decreased 4% to $344 per ounce reflecting the larger mineable resource with increased ounces per vertical metre driving the lower capital intensity.
The third phase expansion is slated to be completed by Q1 2026.
Alamos Gold recently began initial gold production from the La Yaqui Grande mine in Mexico. Stacking rates continue to ramp up with leaching activities beginning earlier this month (click here).