Supply Chain & Operations
Ascot expands mineralisation at Sebakwe Zone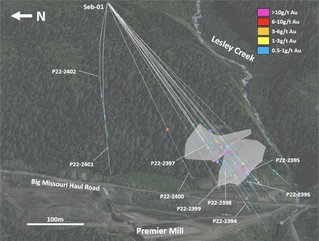 Ascot Resources says second batch of assay results from 2022 exploration drill programme provide encouraging indications of mineralisation and structure
Ascot Resources, the Canadian exploration and development company, has announced the second batch of assay results from the 2022 exploration drill programme at its Premier Gold Project, which is located on Nisga'a Nation Treaty Lands in the prolific Golden Triangle of north-western British Columbia.
Exploration mining drill operations
In a statement, the company explained that these results are from surface exploration drilling at the emerging Sebakwe Zone, which is approximately 600 metres east of the past-producing Premier mill.
Highlights from the drill results include:
11.83 g/t Au and 56.3 g/t Ag over 2.73m, including 20.10 g/t Au and 82.4 g/t Ag over 1.40m, from a depth of 335.47m in hole P22-2394
6.33 g/t Au and 6.6 g/t Ag over 3.20m, including 11.25 g/t Au and 10.7 g/t Ag over 1.60m, from a depth of 290.10m in hole P22-2396
8.25 g/t Au and 15.7 g/t Ag over 1.45m from a depth of 290.55m in hole P22-2400
Mineralisation mining
Ascot added that it had initially planned on drilling 10 new holes totalling approximately 4,000-metres at Sebakwe as part of the 2022 exploration drilling programme but based on encouraging visual indications of mineralisation and structure, this was increased to 15 holes totalling 6,110 metres.
The statement added that initial modelling work based on the Sebakwe Zone drill results have identified at least two zones of gold mineralisation. These zones have been modelled with a north westerly dip and are located under the Lesley Creek to the east of the Premier mill, it said.
"These veins are concentrated in the more densely drilled area towards the southwestern end of Sebakwe along a strike length of approximately 120 metres and a down dip extent of 100 metres. The presence of similar vein zones in the north-eastern end of Sebakwe is observed but must be followed up with more drilling to confirm dimensions, continuity, and grade," the statement continued.
Furthermore, Ascot said that surface drilling is currently being conducted at the Big Missouri deposit for in-fill and step-out purposes, and assays are anticipated in the coming weeks. Multiple occurrences of visible gold have been identified in the core, boding well for the pending results, it added.
To date 27 holes have been completed for a total of 2,384 metres at Big Missouri, the statement concluded.