Supply Chain & Operations
Battery electric mining vehicles make global moves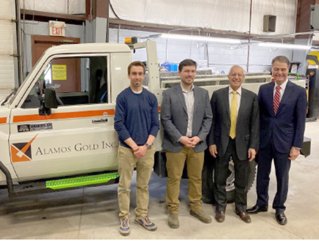 As Miller Technology sell its first electric utility vehicle to the Young-Davidson Mine, Sandvik and Hindustan Zinc sign MoU for battery electric equipment
Miller Technology has sold its first new battery electric utility vehicle for mining to the Young-Davidson Mine of Canadian mining company Alamos Gold.
Miller has developed a conversion kit to exchange the diesel engine for an electric motor, in addition to a number of other mining-specific modifications to the vehicle.
These vehicles are often run 24 hours a day, and Miller has patented certain aspects of its IONIC Drive system. Prior to releasing this BEV conversion, Miller had already built the Relay, a new ground up utility vehicle.
"With our original build Relay, BEV conversion kit and new projects such as an E-grader, the Ionic Drive System that Miller has developed has arrived at the top of the battery electric heavy duty-cycle drive systems," said CEO Dan Bachand.
The utility vehicle is driven underground to safely move mining staff around the mine site. Historically, these utility vehicles have had diesel engines, which emit greenhouse gas emissions and impairs underground air quality.
The sale to Alamos Gold follows a series of successful mine trials.
Bachand added it marks a great step forward by Alamos Gold to reduce diesel fumes and emissions, improve employee health, cut fossil fuels and slow global warming.
"The purchase of the electric utility vehicle from Miller Technology supports Alamos Gold's efforts to reduce greenhouse gas emissions," said Léon Grondin-Leblanc, General Manager of the Matachewan-located Young-Davidson Mine.
"The Young-Davidson mine's emission intensity is less than half the industry underground mine average as a result of increased electrification and automation of our lower mine infrastructure which we completed two years ago, and today's announcement is yet another step forward."
Sandvik and Hindustan Zinc sing MoU for battery-electric underground equipment
Sandvik and Hindustan Zinc have signed an MoU for supply of a battery-electric underground equipment fleet to be used at Sindesar Khurd Mine to help it achieve its carbon neutrality ambitions. Deliveries are scheduled to begin in Q1 2023, and it will be the first underground BEV fleet deployed in India.
The equipment to be delivered includes a LH518B loader and three TH550B trucks as well as a DD422iE drill rig with Sandvik's unique and patented "charging-while-drilling" technology. Sandvik will also provide batteries, charging systems and a full-range on-site battery and equipment service team. The loader and the trucks will be equipped with AutoSwap, Sandvik's patented battery self-swapping system, capable of battery changeout in a few minutes.
"Aligned with our expansion strategy for battery-electric vehicles, I'm delighted to sign this agreement with Hindustan Zinc to deliver the first battery equipment fleet in India. This is a testament to both the pioneering ambitions of Hindustan Zinc and the technological maturity of Sandvik BEV products," said Henrik Ager, President of business area Sandvik Mining and Rock Solutions.

The TH550B truck and LH518B loader are based on the Artisan technology, which Sandvik acquired in 2019, and enriched with the latest Sandvik mining technology, contributing to overall productivity improvements of up to 20%. The machines will be equipped with modern battery telemetry solutions enabling automated, on-premise as well as remote health and performance monitoring.
The Artisan driveline and battery solutions have been field tested with more than half a million operating hours.
Copper Mountain Mining commissions trolley assist project

Copper Mountain Mining has successfully commissioned its trolley assist project, which consists of an approximately 1km trolley-assist haul ramp and seven pantograph-equipped electric haul trucks.

This project is in partnership with SMS Equipment, Komatsu, ABB, Clean BC, and B.C. Hydro, and is aimed at cutting carbon emissions at the Copper Mountain Mine by at least 30%, paving a solid foundation to achieve the Company's goal of net zero carbon emissions by 2035.
Gil Clausen, Copper Mountain's President and CEO, said it is the first open pit mine to commission electric trolley assist haulage in North America.

"We have been assessing numerous innovative technologies that will reduce our carbon load," he said. "Through electrification and capacity increases, we are targeting to reduce our carbon intensity by 50 to 70% in the next five to seven years. We are also actively testing and researching renewable diesel, hydrogen, battery, and fuel-cell technology to power our haulage units to achieve our goal of net-zero carbon emissions by 2035."