Supply Chain & Operations
BHP copper production falls 10% but iron ore unchanged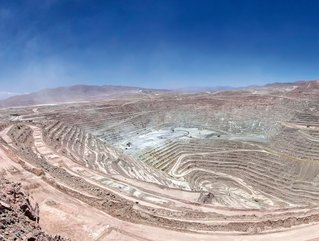 BHP lowers full year copper production guidance to between 1,570-1,620kt, primarily due to lower volumes at Escondida from COVID-19 and public unrest
BHP has lowered full year copper production guidance to between 1,570-1,620kt, primarily due to lower volumes at Escondida (pictured) from COVID-19 workforce impacts and public road blockades as a result of social unrest.
Total copper production decreased by 10% to 1,112kt in the year to March. However it reported higher volumes at Olympic Dam following completion of the planned smelter maintenance campaign and Spence production is increasing.
Total iron ore production in line with the prior period at 189Mt, and production guidance for the 2022 financial year remains unchanged at between 249-259Mt.

Nickel West production decreased by 13% to 58kt due to the impacts of COVID-19 related labour absenteeism and workforce shortages in the March 2022 quarter. In April, BHP agreed to fund a new C$2mn nickel exploration program in Nunavik, Quebec as part of its strategic alliance with Midland Exploration.

Full year unit cost guidance for Western Australia Iron Ore (WAIO), Escondida and Queensland Coal remains unchanged, and full year unit cost guidance for New South Wales Energy Coal (NSWEC) has been increased to between US$76 and US$81 per tonne, reflecting a targeted increase in the proportion of higher quality coal to capture more value from the record high prices for higher quality thermal coal.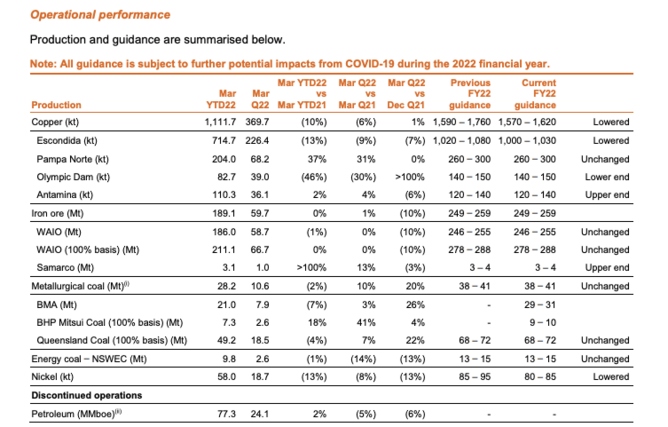 BHP Chief Executive Officer, Mike Henry, said: "Our WA iron ore business continues to perform strongly as we navigate the state's first major COVID-19 wave, and we remain on track to achieve full year volume and cost guidance. Amid record high prices, our Queensland metallurgical coal business delivered strong underlying performance and benefited from better weather in the quarter."
Total minerals exploration expenditure for the nine months to March was US$170mn, of which US$127mn was expensed.

BHPs' two major projects under development, the US$2.97bn Jansen mine shafts project and the US$5.7bn Jansen Stage 1 project, are making 'good progress'. At Oak Dam in South Australia, BHP is continuing next stage resource definition drilling with four drill rigs now active on site, an increase from two drill rigs previously, after commencing the program in May.

The merger of its petroleum assets with Woodside is set for completion in June, while the divestment of the BMC business to Stanmore should also complete in May.
In February, BHP advanced its early-stage copper interests by investing C$100mn to acquire a five per cent equity interest in Filo Mining, a Toronto Stock Exchange listed exploration and development company.

Market volatility and inflationary pressures have increased further as a result of the Russian invasion of Ukraine.
"We continue our work to mitigate cost pressures through a sharp focus on operational reliability and cost discipline," it added. "While we expect conditions to improve during the course of the 2023 calendar year, we anticipate the skills shortages and overall labour market tightness in Australia and Chile to continue in the period ahead."
The BHP Foundation has donated US$5mn to support the Ukraine humanitarian crisis.