Supply Chain & Operations
BHP Spence Mine to pilot first carbon neutral conveyor belts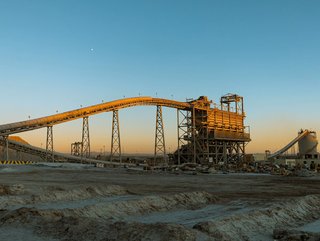 BHP's Spence Copper mine will receive the world's first carbon neutral conveyor belts in August from China's Wuxi Boton as part of a pilot project
BHP's Spence Copper mine will receive the world's first carbon neutral conveyor belts in August from China's Wuxi Boton as part of an exclusive pilot project between the two companies.
The pair jointly developed this pilot project, under which the conveyor belts were verified by SGS, a leading testing, inspection and certification company, as meeting the requirements of PAS 2060:2014 (Specification for the demonstration of carbon neutrality).
SGS awarded the world's first certificate of 'Achievement of Carbon Neutrality for Steel Cord Rubber Conveyor Belt' to a batch of belts produced by Boton for BHP.
The conveyor belts will be shipped to BHP's Spence copper mine, where they will be used in the production and transportation of Spence mining products to customers around the world, including China.
The scope of the pilot project was for Wuxi Boton, as the incumbent contractor for BHP's operations at both Minerals Australia and Minerals America, to select the conveyor belts to be ordered by BHP and identify how to offset the estimated greenhouse gas emissions associated with the production of those conveyor belts using high quality carbon offsets prior to delivery.
James Agar, BHP's Group Procurement Officer, said Wuxi Boton has been a reliable partner to BHP for over eight years, supplying high quality conveyor belts to our assets in Australia and Chile.
"Both companies are committed to mitigating climate change in accordance with their respective climate targets and goals," he said.
"This shared vision of a better world led Wuxi Boton, in December 2021, to extend the offer of an exclusive pilot to deliver a carbon neutral conveyor belt to BHP."
"The partnership with Wuxi Boton has been invaluable in helping BHP verify the feasibility of using high-quality carbon offsets to GHG emissions in our supply chain (Scope 3) and grow the potential demand for supplying 'traced', 'low carbon', or 'carbon neutral' products amongst our suppliers."
Wuxi Boton's Chairman, Zhifang Bao, said it is difficult for any enterprise to achieve low-carbon transformation on its own.
"Only by building a global platform, cooperating with the whole industry chain, and jointly exploring low-carbon technologies and road maps can we reach the other shore," he said.
"Therefore, joint innovation is an inevitable choice. Instead of passively accepting, it is better to take the initiative to lead, which is a very important choice faced by enterprises all over the world.
"We are pleased to see that the partnership between BHP and Boton has expanded from a single business level to a strategic synergy level. In the journey of global energy transition, leading companies including Boton and BHP are jointly working towards building a more sustainable future."