Supply Chain & Operations
Boliden to take Scania electric truck delivery this spring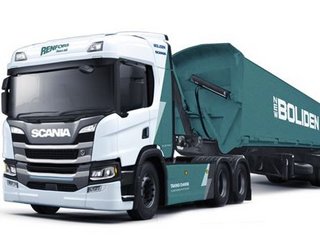 Mining company Boliden is taking delivery of a 74-tonne electric truck from Scania as it strives to cut CO2 emissions by 40% by 2030
A 74-tonne Scania electrified truck will be delivered to mining company Boliden this spring.
The heavy transport electrified vehicle is a key element in the mining company's strategy to cut CO2 emissions by 40% by 2030.
The electrified truck will be driven by haulage company Renfors Åkeri AB on a 30km return-trip route on public roads by Boliden's mine in northern Sweden.
Fredrik Allard, Head of E-mobility, Scania, said it is vital that the infrastructure keeps up to enable more customers to make the move to electric.
"It is also very valuable to work on this kind of concept for heavy electrified operations with players such as Boliden, that wants to push development, not least in the environmental area," he said.
Jonas Ranggård, Program Manager, Boliden, said: "To try an electrified solution for very heavy vehicles at an early stage and contribute to the development and transition to sustainable solutions are very much in line with our agenda. The electrified Scania truck will reduce emissions in one of the most important flows in our operations and further strengthen our high climate performance."
This electrified truck is a part of a close and innovative pre-development work between Scania and Boliden. The collaboration opens up the possibility to electrify more of Boliden's transport flows going forward.
The technical solutions of the electrified truck is based on the current series-produced technology but with stronger components added, something that makes the electrified vehicle work during the tough operations. This powerful load capacity and an even longer range are a part of Scania's series-produced solutions within 24 months. The delivery of this truck is planned for the second quarter 2022.
The project is a part of REEL, Regional Electrified Logistics, an initiative lead by CLOSER and supported by the programme Fordonsstrategisk forskning och Innovation (FFI) to pave the way for the transition to an electrified freight transport in the Swedish market.
Christian Levin, President and CEO of Scania, said while 2021 was characterised by record strong demand for trucks, it faced an extreme challenge in meeting this demand due to a shortage of components in the supply chain.
"Together with our suppliers, the organisation has made an extraordinarily strong effort to get so many trucks out to our customers in such a difficult situation," he said.
"The shortage of components, in particular of semiconductors, meant that we were forced to reduce our production volume during the third and fourth quarters of 2021. The production disruptions led to a loss of volume of trucks and increased costs. We have also faced increased costs for materials and freight in our supply and delivery flows. Despite this we continued to perform and both sales and earnings increased in 2021 compared to last year."
Statistics from IHS Markit show that 346 electric trucks (≥16 tonnes) were registered in Europe last year – an increase of 193% from 2020. Volvo Trucks has the largest market share at 42%. The countries in Europe with the most electric trucks registered (≥16 tonnes) are Switzerland, Norway, Sweden and the Netherlands.
Scania 2021 full year results
Net sales increased 17% to SEK146,146mn (125,125)
Operating income excluding items affecting comparability increased by 86% to SEK16,523mn (8,887)
Operating income amounted to SEK11,294mn (8,887) and was negatively impacted by a provision of SEK5,229mn due to a General Court judgement relating to the European Commission's competition investigation
Cash flow amounted to SEK5,688mn (9,180) in Vehicles and Services