Supply Chain & Operations
Bradda Head Lithium starts OTCQB trading and rebrands assets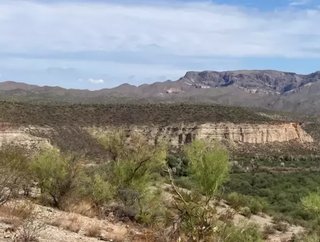 Bradda Head Lithium shares will cross-trade publicly on the US OTCQB market today to capitalise on interest in its Arizona projects
The ordinary shares of Bradda Head Lithium, the North America-focused lithium development group, will cross-trade publicly on the US OTCQB market, under the ticker BHLIF, when US markets open today. 
Trading will have no impact on its existing ordinary shares trading on AIM, a market operated by the London Stock Exchange (LSE) for small and medium size companies. No new ordinary shares were issued  as part of the cross-trade. The group will continue to make announcements and disclosures to the LSE through the Regulatory News Channel and has no Sarbanes-Oxley or SEC  reporting requirements.  
The cross-trading facility is provided through OTC Markets Group, located in New York. OTC Markets operates the world's largest electronic interdealer quotation system for US broker dealers and offers multiple media channels to increase the visibility of OTC-listed companies. Independent  studies show that trading on the OTC by an international company offers a positive effect on the  liquidity of its shares.  
Charles FitzRoy, CEO of Bradda Head Lithium, said the company is seeking to capitalise on interest in its Arizona projects. "The US has significant interest in lithium as a commodity and we hope that the visibility we gain will further broaden our shareholder base and increase shareholder demand in one of the major lithium markets of the world," he said.
"Bradda finished 2021 in a great position with US$9.9mn in the treasury from the royalty transaction with  LRC as well as our 2021 IPO funds and has started 2022 strongly. Cross-listing on the OTCQB will enable North American investors to trade our AIM listed shares gaining exposure to this North American lithium opportunity." 
"We will be announcing the resource upgrade at Basin East in Q1 where we  already have a JORC resource of 185kt of LCE as well as our maiden resource from Wikieup in Q2, where we are drilling currently. Other newsflow to watch out for in 2022 is related to the planned  drilling programme at San Domingo and geophysics results at Eureka."
The company has rebranded some assets to reflect its naming conventions. Burro Creek has been changed to Basin to reflect its geological province (Basin &  Range) and unite all the different elements (Burro Creek East, East Extension,  West, North, West Extension) under the Basin Project umbrella. The below table outlines the changes.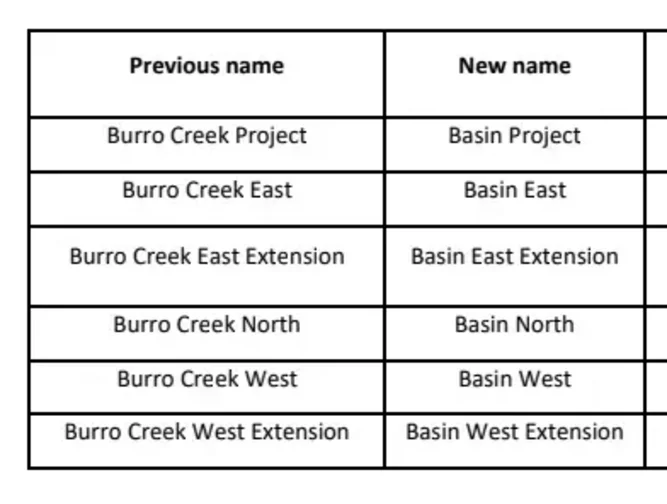 Rock Tech Lithium unveils stock option plan
Rock Tech Lithium recently announced the initial batch of assay results from its ongoing drill program at its 100%-owned Georgia Lake lithium project in the Thunder Bay Mining District of Ontario.
The drill program, being carried out by Niigaani Drilling, is designed to confirm the delineated mineral resource, which is intended to form the basis for a Pre-Feasibility Study. Targeting a total of 22,000 metres, the program is focused on five (5) deposits within the Georgia Lake lithium property: Main Zone North ("MZN"), Main Zone Southwest, Conway, Harricana and Line 60. To date, the company has completed approximately 9,500 metres of drilling with additional samples at the lab pending analysis.
Rock Tech Lithium has also granted an aggregate of 1,196,000 stock options to directors, officers, employees and consultants under a stock option plan.
Of the total, 846,000 stock options granted to directors and consultants will vest over a two-year period with 50% vesting on the date that is a year after the grant date, with the remaining 50% vesting monthly thereafter. Each stock option granted has an exercise price of $6.08 per share and an expiry date of January 12, 2026.
The remaining 350,000 stock options granted to employees will vest over a forty-eight-month period with 25% vesting on the date that is twelve months after the grant date with the remaining 75% vesting monthly thereafter. Each stock option granted has an exercise price of $6.08 per share and an expiry date of January 12, 2028.
IEA forecasts booming lithium demand
Lithium, nickel, cobalt, manganese and graphite are crucial to battery performance, longevity and energy density. 
As energy transitions gather pace, clean energy technologies are becoming the fastest-growing segment of demand. In a scenario that meets the Paris Agreement goals (as in the IEA Sustainable Development Scenario [SDS]), their share of total demand rises significantly over the next two decades to over 40% for copper and rare earth elements, 60-70% for nickel and cobalt, and almost 90% for lithium, reports the IEA.
"EVs and battery storage have already displaced consumer electronics to become the largest consumer of lithium and are set to take over from stainless steel as the largest end user of nickel by 2040," it notes.
The growing adoption of EVs and the need for EV batteries with higher energy densities will see the demand for lithium increase more than threefold between 2017 and 2025, to 669 kilotons lithium carbonate equivalent (LCE), according to McKinsey.