Supply Chain & Operations
Camino begins drilling at Peru's Los Chapitos copper mine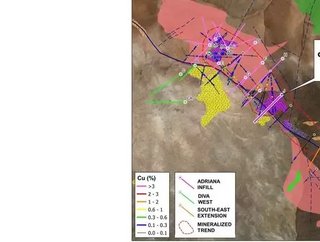 Canadian firm will also be testing a potential new discovery at Diva West...
Camino Corp, the Canadian mining firm, announces that drilling has begun on its Los Chapitos copper project, which is located in Southern Peru's Arequipa Department.
In a statement, Camino explains that Diamond Drillhole DCH-055, collared on October 2, 2020, is the first drill hole of a planned 3,000-metre program that adds to the 19,161-metres already drilled on the project in 2017 and 2018. The hole is designed to test near surface oxide mineralisation on the Carlotta target (and deep high-grade sulphide mineralisation on the Diva Fault).
"Our first drill hole at the Carlotta outcrop, is located 400m south of the discovery made at the Adriana outcrop in 2017. The two outcrops look similar and show oxidised copper hosted in Chocolate Formation volcanics," said Jay Chmelauskas, President & CEO of Camino. "We will also be testing a potential new discovery at Diva West, an area of undrilled copper mineralisation, hosted in the same Chocolate Formation and located several hundreds of metres to the west of the main mineralised Diva Structure. We are working towards expanding mineralisation to define a maiden resource on and along the Diva structure, and at the same time begin to determine the potential size of the Los Chapitos IOCG system."
"At Chapitos we have been actively incorporating new geochemical and mapping information into our models to improve our understanding of the geology," said Owen Miller, the Company's Exploration Manager in Peru. "The current drill campaign reflects this work and new target areas have been highlighted at Diva West that may redefine our geological interpretation for the whole Los Chapitos Project," he added, pointing out that the core is being logged and sampled at the company's facilities in the town of Chala 15 km from the project. 
Samples are sent to Lima to be analysed by ALS Chemex with the first results expected the last week of October.