Supply Chain & Operations
Certarus strikes CNG deal with McEwen Mining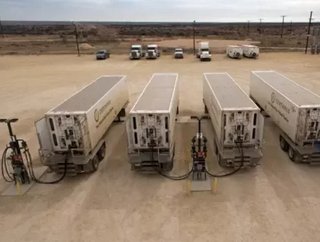 Certarus enters long-term agreement with McEwen Mining to convert and supply the Fox Complex in Matheson with compressed natural gas
Certarus has entered into a long-term agreement with McEwen Mining to convert and supply the Fox Complex in Matheson, Ontario with compressed natural gas (CNG) for mine air heating in the underground ventilation system. CNG will be used to replace propane as the primary fuel for heating at both the Froome and Black Fox Mines.
CNG is a high-performance, lower carbon fuel alternative that offers cost savings and emission reduction benefits. In addition to helping to lower the mine's carbon footprint, the flexibility of Certarus' mobile decompression and storage equipment also allows for the CNG fueling system to be removed in the summer months when it is no longer required for mine air heating.
Certarus provides low carbon energy solutions through a fully integrated compressed natural gas (CNG), renewable natural gas (RNG) and hydrogen platform, and McEwen Mining is a diversified gold and silver producer and explorer focused in the Americas with operating mines in Nevada, Canada, Mexico and Argentina.
"Certarus specialises in delivering lower carbon fuel options to customers in isolated areas – and it doesn't get more remote than the bottom of an open pit mine. While the site poses a few logistical challenges, we can safely deliver clean CNG to help McEwen maintain operations, reduce emissions, and improve environmental performance at the Fox Complex. This is our first time mobilising in a pit mine, and it serves as another great example that Certarus can deliver low carbon energy solutions to our customers, anywhere they operate," said Curtis Philippon, president & ceo of Certarus.
"At McEwen Mining, we are constantly looking for new ways to improve the environmental performance of our operations. With Certarus' mobile CNG delivery, we have a better option to heat our mines, without having to install and store permanent fuel tanks. We can lower costs, simplify fuel logistics, and reduce our carbon footprint. That's a big win for our business," said Rory Greyvensteyn, director of operations, McEwen Mining Canada.
Equinox Gold breaks ground at Greenstone Gold Mine
Last month Equinox Gold Corp. announced ground breaking for full-scale construction at the Greenstone Gold Mine in Ontario.

Developed as a 60/40 partnership respectively, by Equinox Gold and Orion Mine Finance Group, Greenstone Mine will be one of the largest gold mines in Canada, producing more than 400,000 ounces of gold annually for the first five years and more than five million ounces of gold over its initial 14-year mine life.
Greenstone Mine Highlights (100% basis)
5.05 million ounces life-of-mine gold production

More than 400,000 ounces average annual gold production for the first five years
More than 360,000 ounces average annual gold production over the initial 14-year mine life

5.54 million ounces of Proven and Probable Mineral Reserves grading 1.27 grams per tonne gold
$1.23 billion initial capital, including $125 million for the mining fleet of which approximately $100 million could be leased to reduce the upfront cash spend
14-year initial mine life with expansion potential from underground and near-mine deposits
800 local and 1,300 regional jobs during construction, 500 jobs during operations, plus numerous opportunities for indirect and support businesses in the region
First gold pour targeted for H1 2024
Christian Milau, CEO of Equinox Gold, said construction at its Santa Luz mine in Brazil is nearing completion. The majority of site services and infrastructure are in place, resulting in low initial capex of $103 million with first gold pour targeted for Q1-2022.