Supply Chain & Operations
Compass Minerals to supply LG Energy Solution with lithium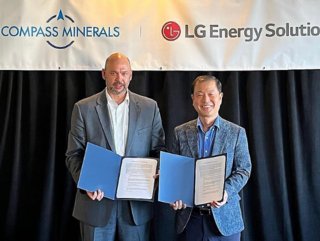 Non-binding MoU will see Compass supply LG Energy Solution with a battery-grade lithium product from 2025
Compass Minerals has signed a non-binding MoU to supply LG Energy Solution (LGES) with a battery-grade lithium product starting in 2025, marking the leading Asian supplier's first tie up with a US-based lithium provider.
​​​​​​​Compass Minerals intends to supply battery-grade lithium product from its lithium brine development project at its Ogden, Utah, solar evaporation facility, to the leading global manufacturer of lithium-ion batteries for electric vehicles and energy storage systems.

Compass Minerals would commit, for up to seven years initially, at least 40% of its planned, annual phase-one production to LGES starting in 2025.

The MoU also includes an option for Compass Minerals - which recently named Jordan Taylor as its new Vice President of operations, lithium - to supply up to an additional 40% annually of the company's phase-two production once the project is at full scale.
The company has previously announced an expected annual commercial production capacity of 30 kMT to 40 kMT lithium carbonate equivalent (LCE) for the project, with an initial phase-one capacity of up to 10 kMT LCE coming online by 2025.

Purchase pricing would be based on market price and sales volume thresholds would be dependent upon product qualifications.
"Our lithium vision is to support the North American battery market by accelerating the development of a sustainable and secure domestic lithium supply chain," said Chris Yandell, head of lithium for Compass Minerals.

"Entering into this commercial relationship with a proven manufacturing leader like LGES will help enable that vision, as well as assist LGES in solidifying its US supply chain."
Dongsoo Kim, Senior Vice President of Procurement Center at LG Energy Solution, said securing key raw materials has become critically important, in order to maintain our lead position in the global battery market.

"LGES will make sure to support establishment of steady supply chain in North America, while it continues to seek and acquire environmentally friendly produced battery-grade lithium worldwide," he said.

Compass Minerals is pursuing the sustainable development of an approximately 2.4 mMT LCE resource on the Great Salt Lake, readily available for extraction through existing permits, water rights and operational infrastructure at the company's Ogden facility, which it claims is the largest of its kind in the Western Hemisphere.
To read its Fiscal 2025 ESG targets click here.