Supply Chain & Operations
DeepGreen to combine with SOAC forming The Metals Company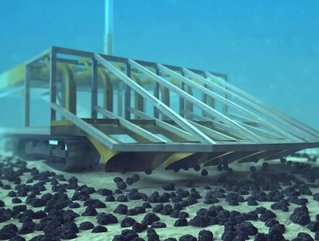 Seafloor mining company DeepGreen will merge with Sustainable Opportunities Acquisition Corporation to mine polymetallic nodules containing battery metals
DeepGreen Metals, a developer of lower-impact battery metals from unattached seafloor polymetallic nodules, today announced that it has entered into a definitive business combination agreement with Sustainable Opportunities Acquisition Corporation (SOAC), a special purpose acquisition company with a dedicated ESG focus and deep operational and capital market capabilities in the energy and resource sectors. The transaction, valued at $2.9bn, will create a new entity renamed The Metals Company.
Electric Vehicles
DeepGreen is developing a new, scalable source of EV battery metals in the form of polymetallic nodules found unattached on the seafloor in the Pacific Ocean. The estimated resource on the seafloor in the exploration contract areas held by the company's subsidiaries is sufficient for 280 million EVs – a quarter of the global passenger car fleet. The development of this resource offers an abundant, low-cost supply of critical raw materials for EV batteries and wiring including nickel, cobalt, copper and manganese, with a lower lifecycle ESG impact than conventional mining. Ensuring this critical supply of battery metals is essential to the transition from internal combustion engines to EVs, which faces the following risks:
Sustainable Opportnities Acquisiton Corporation
"Sourcing battery metals is the biggest hurdle facing the clean energy transition, and the pipeline of new mining projects on land is insufficient to meet rising demand," commented Scott Leonard, CEO of SOAC. "We looked at over 100 companies, many of them in the EV and renewable energy space. DeepGreen stands above the rest. It offers a real, scalable solution to the raw materials problem, at a low production cost and with a significant reduction in the ESG footprint of metals. Assuming full-scale production, we expect The Metals Company to be among the lowest cost nickel producers in the world.
DeepGreen
Gerard Barron, DeepGreen Chairman and CEO, added: "We are excited to partner with SOAC, an ESG-driven team that does not shy away from tough problems. The reality is that the clean energy transition is not possible without taking billions of tons of metal from the planet. Seafloor nodules offer a way to dramatically reduce the environmental bill of this extraction. We are getting into this industry with a deep commitment to ocean health and a clear stop date in mind. The plan is simple: produce better metals to supply the EV transition, while building up enough metal stock to stop extracting from the planet and enable society to live off recycled metals."