Supply Chain & Operations
Endeavour Mining posts $122mn earnings in Q1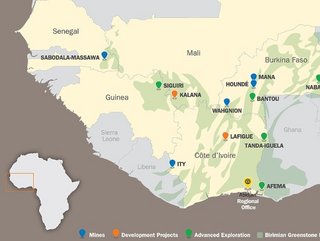 Endeavour Mining's net cash soars to $167mn as it begins the expansion of Sabodala-Massawa and the DFS for its Lafigué project is nearing completion
Endeavour Mining posted adjusted net earnings of $122mn in Q1, up $22mn year-on-year. Operating cashflow rose $96mn to $299mn and net cash increased $90mn to $167mn.
Sebastien de Montessus, President and CEO, was pleased to have started the year on a strong footing with both production and all-in sustaining costs well positioned to meet full year guidance.
"This performance has resulted in robust cash flow generation during the quarter which, in line with our capital allocation framework, was used to further strengthen our balance sheet, to continue our attractive shareholder returns programme, and to reinvest back into our business," he said.
"Our net cash position has improved ... and we also returned more than $100 million to shareholders over the period through dividends and buybacks."
He said it is focused on continuing to enhance business resilience by improving the quality of its portfolio through our organic growth opportunities and optimisation initiatives.
"As such, we have recently begun the expansion of Sabodala-Massawa and the DFS for our Lafigué project is nearing completion," he said.
"In addition, we are continuously working on improving the efficiency of our operations by identifying and pursuing high priority optimisation initiatives, in an effort to remain a low-cost producer despite the industry-wide inflationary pressures."
Sabodala-Massawa is the largest producing gold mine in Senegal, West Africa, according to Endeavour. Its planned mine expansion will transform it into a top-tier gold asset with incremental production and strong cash flows projected over the next five years.

Full year 2021 production from all operations amounted to 1,536koz, beating the top end of the guided 1,365-1,495koz range, due to out-performance at the Houndé, Ity, Sabodala-Massawa and Mana mines.