Supply Chain & Operations
Freeport's sets out sustainability targets in climate report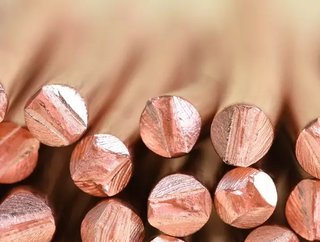 Freeport McMoRan has released a new Climate Report, which sets out the company's goals for net-zero in copper production
Freeport McMoRan, a leading international mining organisation based in Phoenix, Arizona, has released details of its sustainability aspirations, in the form of its Climate Report. The report sets out the companies aspirations for reducing greenhouse gas (GHG) emissions, as well as its commitment to future sustainability recommendations.
Freeport's involvement in climate change 
The company's latest sustainability approach into three key pillars: 
Reduction - Ensuring that Freeport does everything it can to reduce its GHG emissions. 

Resilience - Become more resilient to changes and plan ahead for future operations. 

Contribution - Working with others to support the overall global developments for a low-carbon future. 
Reduction
Freeport has recognised GHG emissions as a key area in which it must make conscious improvements in the lead up to 2030—and beyond. The latest report provides a summary of the company's emissions, in scopes one and two, across different sections of its business, including FMC mining, downstream processing, PT-FI, and FCX Global.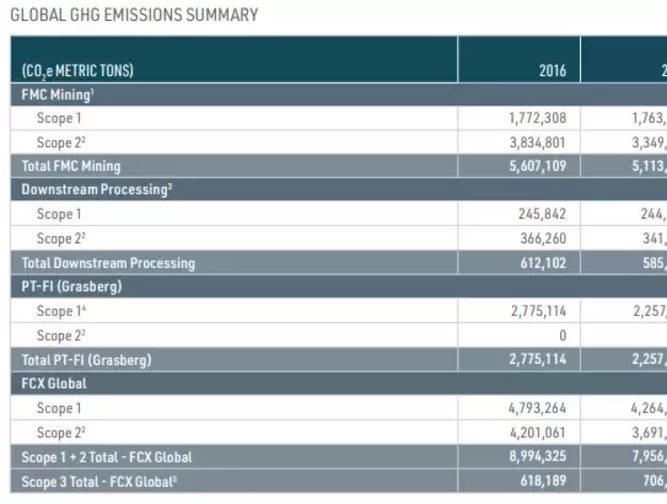 Now that many large organisations have the ability to track their direct emissions, scope 3 has become an important part of their future planning. Freeport has also provided revised figures on scope 3 emissions across its upstream and downstream processes.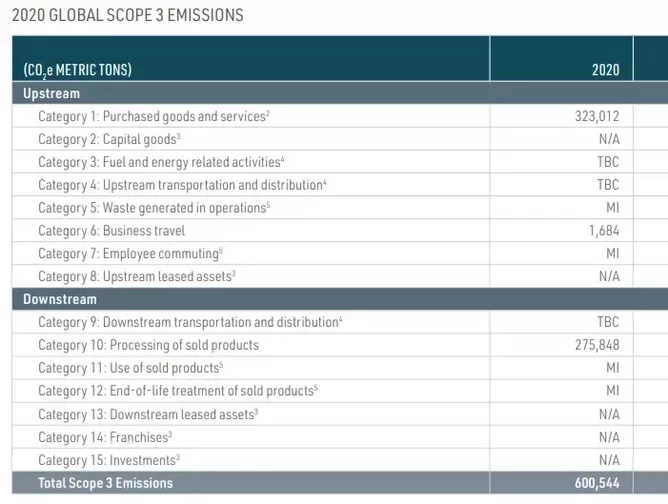 Resilience
Over the past 18 months, organisations have learnt that building resilience in their planning is critical. Freeport is taking steps to include more variables in its planning and will work to analyse and prepare for extreme weather conditions and other events related to climate change.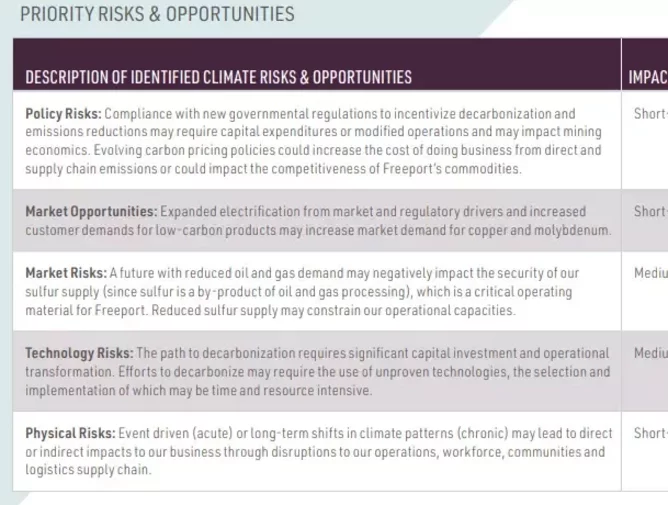 Contribution 
As the producer of a key component in electrification, Freeport is responsible for a 7% net equity share of the total global copper production. In order to decarbonise the copper supply chain, Freeport is an important contributor to sustainable copper sourcing. To ensure a successful contribution to sustainable copper, the company will collaborate with other organisations, as well as gaining various business memberships. 
The group's strategy for net-zero operations comes in various stages, with the decarbonisation of electrical supply and electrification of production equipment as the more urgent changes, followed by the increased efficiency of its energy and assets further process innovations, leading up to the year 2050.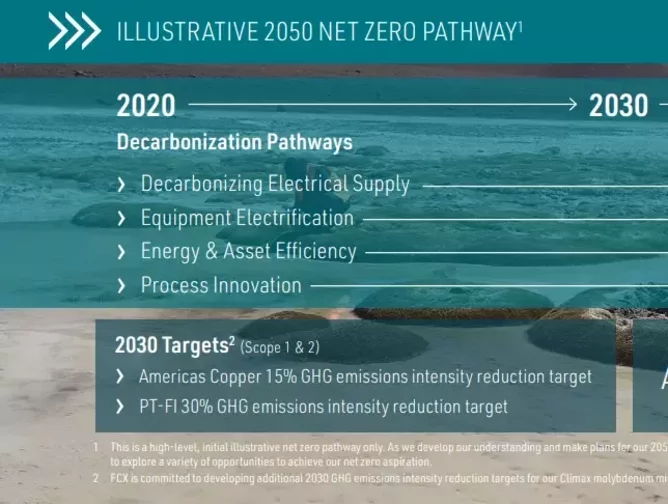 'As both a major consumer of energy, and as one of the world's largest producers of the copper essential to enable the global energy transition, Freeport aspires to participate in, and positively contribute to, a 2050 net-zero economy. Our path to net-zero carbon emissions will require industry-wide new technological solutions and innovation. We embrace these challenges and are focused on achieving meaningful progress through our internal efforts and through collaboration with industry partners. We are in the process of integrating our climate initiatives into our long-term business plans as we work to responsibly produce copper for the benefit of all stakeholders' - Richard Adkerson, Chairman and Chief Executive Officer.

For more mining insights, check out the latest issue of Mining Global Magazine.