Supply Chain & Operations
GMIN starts construction of Tocantinzinho Gold Project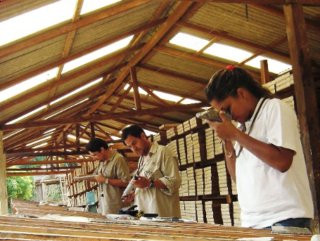 GMIN to begin construction of Tocantinzinho Gold Project in Brazil. The open-pit gold deposit contains 2.0 million ounces of reserves
G Mining Ventures (GMIN) has announced that a formal decision has been made by its board of directors to proceed with the construction of the Tocantinzinho Gold Project in Brazil's Pará state.
Gold mining and construction work
Tocantinzinho is a permitted, construction ready, open-pit gold deposit that contains 2.0m ounces of reserves. The project was acquired by El Dorado Gold in 2010 through the US$120m acquisition of Brazauro Resources. It was acquired by GMIN in the fourth quarter of 2021 in a US$115m deal and has become the mineral exploration company's flagship project in the State of Pará.
The company's statement also provided additional updates on developments on the Project, including the receipt of essential installation license extensions, recruitment, engineering, procurement, early works activities, and the appointment of additional key personnel.
Louis-Pierre Gignac, President & Chief Executive Officer, commented: "GMIN was reorganised in October 2020 with the objective of building the next intermediate gold producer. In less than two years, the management team acquired a great project in TZ, released an updated Feasibility Study in February 2022, and completed a $481 million comprehensive financing package in a turbulent and volatile capital markets environment.
"This construction decision is an important milestone which has been achieved by de-risking the technical, permitting and funding aspects, and that confirm the TZ project is both a robust and responsible development opportunity. We are happy to see step one of our "Buy, Build, Operate" strategy progressing as planned, and are excited to commence full construction of TZ, for what will be one of the largest primary gold mines in Brazil.
"The updated feasibility study from February 2022 incorporated many of inflationary pressures seen in the industry, while still demonstrating very positive results of NPV5% of US$622m and IRR of 24% using a US$1,600 per ounce gold price. We are very pleased that the regulators are in agreement with the high quality of our ongoing detail engineering work and have approved several of the key permit extensions we had requested.
"Lastly, we welcome additional highly qualified team members with extensive relevant experience to continue to advance TZ. With this formal construction decision, we target commercial production at TZ in the second half of 2024," he said.
GMIN said that it has received all the necessary environmental installation permits to progress with full construction. These include:
Site installation licence valid until August 2024
Forest Suppression Authorization and related fauna and flora permits for the site
Tubular well drilling and use permit for the temporary camp and construction
Grant for release of sanitary sewage from the site
Tubular well permit for permanent camp and aggregate plant
Licences for the transmission line, landfill, concrete plant, fuel station and tailings dam are currently valid and being further extended by SEMAS
Site preparation activities at TZ started on August 15th and focused initially on the permanent camp area where full construction is scheduled to commence in September.
Construction activities are being supported by Brazauro's environmental team which follows very thorough protocols to rescue fauna and flora, limiting any potential impact to the local environment and ensuring a stable ecosystem, the statement said.
Supporting the Brazilian environment
It added that a total of 250,580 hours has been worked year to date without any Lost Time Incidents on the project. A total of 252 employees and contractors are currently working on the project, with Brazilian employees representing 98% of the workforce, of which 70% comes from local communities and the State of Pará.
The company said that procurement to date totals US$136m (29% of total). Commitments and expenditures are tracking in line with its Feasibility Study from February 2022 and have largely focused on major equipment for the process plant and mining.
Equipment deliveries will be staggered over time, with the first mining excavator and four mine trucks already delivered to site.
Furthermore, Brazil's national grid operator, Operador Nacional do Sistema Elétrico ("ONS"), has confirmed the availability of 22.9 megawatts of power supply requested by GMIN. ONS is the government agency responsible for the coordination and monitoring of electric power generation and transmission facilities connected to Brazil's national grid, where 84% of installed capacity is from renewable resources, mainly hydropower.
Exploration camp expansion is ongoing to support initial construction activities, the statement continued. The installation of 10 additional sleepers has expanded the site's capacity to 350 beds. A new water well has been installed, while an additional sewage treatment facility has been commissioned. Access road extension and widening, and drainage improvements are ongoing.
The freight forwarder logistics base in Moraes Almeida was completed in August and will allow for the consolidation of certain goods for delivery to site to optimise cost and schedule, it added.
Louis Gignac Sr., Chairman of the Board of Directors of GMIN, concluded: "The Board of Directors' formal decision to begin construction on TZ reflects our confidence in the significant value that the Project can bring to stakeholders in the State of Pará and all GMIN shareholders.
"The Board also extends its gratitude to GMIN's established supportive shareholders as well as the new shareholders established through its recently completed financing package, with whom we are fully aligned to grow GMIN into the next intermediate gold producer, using TZ as the foundational asset."