Supply Chain & Operations
Great Western Mining OMCO Mine results 'exceed expectations'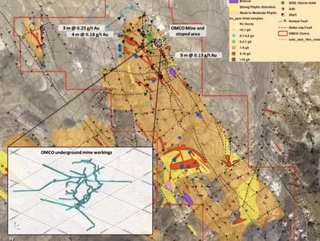 OMCO Mine shows a broad distribution of consistent gold grades at drilled positions reports Great Western Mining
Great Western Mining Corporation - which is exploring and developing gold, silver and copper targets in Nevada - has announced the results of an independent assay of tailings material at the OMCO Mine situated on the Olympic Gold Project in Mineral County.
The 825-acre project, like Great Western's 16,400 acres in south-west Mineral County, lies within the Walker Lane Fault Belt, a major metallogenic belt host to world class gold, silver and copper deposits.
Highlights
12 holes intersected elevated gold grades throughout the tailings material
67 individual assays with average grades of 1.25 g/t, in a range of 0.17 g/t – 3.76 g/t
Tailings thicker than expected. Twelve auger holes were drilled into the tailings heaps at the OMCO Mine, laid out in six two-hole profiles arranged at 20-30m intervals along its north-northwest trending axis to provide the fullest practical sample coverage
Drill cuttings were sent to an independent laboratory in Nevada for fire assay and the results have now been received (Table 1)
Great Western is very pleased with these results which show a broad distribution of consistent gold grades at the drilled positions
Pre-drill calculations had assumed an average tailings thickness of two metres, whereas average recorded drill depths were well in excess of three metres and one hole recorded a thickness of over six metres, providing confidence that the ultimate measured volume will exceed initial expectations.
Great Western chairman Brian Hall said the independent assay results of this large volume of pre-mined material are far ahead of our expectations and an important milestone in establishing the basis for a commercial processing operation on a much larger scale than envisaged at Mineral Jackpot alone.
"We are carefully reviewing processing options, including contained cyanide leaching, and looking at the potential economies of creating a combined facility for the processing of OMCO tailings and the spoil material from the Mineral Jackpot claims. We will keep shareholders informed at every stage," he said.
Great Western Mining recently appointed Dr. James Blight as exploration manager. He will review the proposed 2022 work programme, which will include further drilling and ongoing plans for the reprocessing of spoil heaps and tailings.
Last week American Battery Technology Company (ABTC) reported grades of anomalous reported lithium present from 260 ppm to 1,530 ppm in Nevada.
It announced initial sampling results at its recently secured 305 lode mining claims located on land administered by the Bureau of Land Management (BLM) in Little Smokey Valley near Tonopah, Nevada (click here).