Supply Chain & Operations
GreenRoc Mining resumes Amitsoq Island graphite drilling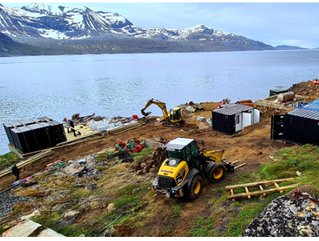 The flake size of Amitsoq's product is ideal for making battery grade spherical graphite required for the anode of lithium-ion batteries
GreenRoc Mining reports second phase drilling is due to resume at Amitsoq Island in Greenland later this month, targeting graphite resource expansion to support a feasibility study. Kalaaq, the other key deposit identified, aims to be drilled next year.
Graphite is a core component of EV batteries, which is driving demand and prices. The high quality and flake size of Amitsoq's product is ideal for the manufacture of battery grade spherical graphite required for the anode of lithium-ion batteries, and well positioned to capitalise on the Net Zero transition.
GreenRoc's Interim CEO, Lars Brünner, said the Amitsoq Project, comprising both deposits, is one of the highest-grade graphite deposits globally.

"Our focus is to continue building resource tonnage to a level that will support a detailed feasibility study, as part of our strategy to fast-forward this Project into commercial production," he said.
"This Kalaaq Exploration Target, coupled with the current maiden resource at Amitsoq Island of 8.28Mt at an average grade of 19.75% Cg, underpins the significant resource and, in turn, the enormous value potential of Amitsoq. Additionally, we have designed a clear development strategy to ensure GreenRoc delivers on this.

"Recent corporate investment activity in Greenland's strategic minerals space tells us that the time is now to advance exploration at our flagship projects. Preparations for Phase 2 drilling at the Amitsoq Island deposit are well underway, and we expect to commence drilling this month as we target a higher-tonnage, higher-category resource which will support the development of a mine plan and feasibility studies."
Alba Mineral Resources, which previously owned the Amitsoq project before spinning out its entire Greenland portfolio to GreenRoc in September 2021, commissioned Dr John Arthur (CGeol FGS) to prepare an Exploration Target for the Kalaaq deposit in southern Greenland.

Natural graphite is characterised by many parameters, the two most important ones for commercially traded flake graphite being purity (carbon content) and particle size distribution (PSD).

High carbon content products have been processed in several steps for purification and are more expensive. Large flakes are more rare and, therefore, attracts higher prices. In contrast, smaller sizes of screened product are cheaper as this material is more abundant. Typically, screened products are commercially available in classes from –200 mesh (75 microns) to +32 mesh (500 microns).

Types of graphite

Microcrystalline graphite is the most abundant form of graphite but also the lowest priced.

The crystalline flake graphite is the commercially most important form of natural graphite. It occurs less commonly in nature than microcrystalline graphite but more commonly than vein graphite.

Vein graphite is the rarest, most valuable and highest-quality type of natural graphite. It occurs in solid lumps in veins along intrusive contacts.

Synthetic graphite is manufactured from calcined petroleum coke, coal tar pitch, anthracite, recycled synthetic graphite or natural graphite.