Supply Chain & Operations
Hochschild "will take action" to keep Peru mines open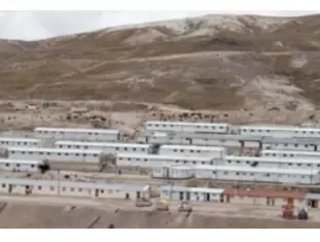 Hochschild Mining will vigorously defend its position after reports emerged about the closure of mines in Peru
Hochschild Mining will take all action necessary after reports emerged about the closure of projects in Peru, impacting the company's Pallancata (pictured) and Inmaculada mines.  
According to reports, the Peruvian Head of Cabinet has indicated that approvals will no longer be granted to facilitate additional mining or exploration activities in relation to these mining operations - although Hochschild states it has not received any formal communication from the government.
"The company believes this conduct by the Peruvian Head of Cabinet is not in accordance with Peruvian law and is wholly without merit. Accordingly, Hochschild will vigorously defend its position and take all action necessary to ensure that the rights of the company and its wholly-owned subsidiaries under Peruvian and international law are respected," it said in a statement.
The statement continued that it operates under the highest environmental standards, applies industry best practice and its sustainable operations are strictly regulated and supervised by several Peruvian regulatory bodies and our activities remain in compliance with their requirements.
In Peru alone, Hochschild employs more than 5,000 people directly and approximately 40,000 people indirectly.  In addition to being a significant employer, Hochschild contributes a material amount to the economy through the payment of tax and royalties.
The 100% owned Pallancata silver/gold property is located in the Department of Ayacucho in southern Peru, approximately 160kms from the Arcata operation. 
Pallancata commenced production in 2007 and up until December 2013 was a joint venture, in which Hochschild held a controlling interest of 60% with International Minerals Corporation. Following the purchase of IMZ, Hochschild now owns 100% of the operation. Ore from Pallancata is transported 22kms to the Selene plant for processing.
The company and its employees work in collaboration with local communities, implementing not only social development projects, but also contributing to the local economies through the hiring of personnel and services. 
Hochschild has long-term investment plans to further develop its mining assets, an example being Inmaculada, where a modified environmental impact assessment has been submitted for approval and which, once obtained, will see the continuation of mining activities to deliver significant benefits to the region and its communities.
The communities located close to the affected operations as well as the trade unions representing the operations' workforce have issued formal statements in support of Hochschild.  Furthermore, a number of reputable institutions including the National Confederation of Private Business and the National Society of Mining, Energy & Oil have declared their support for Hochschild.
Ignacio Bustamante, CEO, said Hochschild is surprised by this unilateral announcement by the Head of Cabinet.
"Our goal is to continue investing in Peru, growing our resources and extending mine lives, in accordance with the Peruvian legal framework. We are prepared to enter into a dialogue with the government in order to resolve any misunderstandings with respect to our mining operations. However, given the illegal nature of the proposed action, the company will vigorously defend its rights to operate these mines using all available legal avenues."
To read more on Hochschild operations in South America, click here.