Supply Chain & Operations
Horizonte Minerals awards Araguaia earthworks contract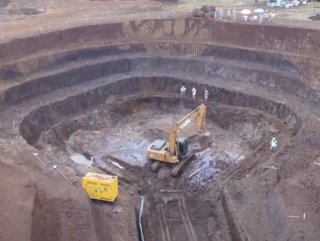 Horizonte Minerals has awarded the earthworks contract for the construction of its fully owned Araguaia ferronickel project to Copa Construção S.A.
Brazilian nickel development company Horizonte Minerals has awarded the earthworks contract for the construction of its fully owned Araguaia ferronickel project to Copa Construção S.A.
Copa, a leading Brazilian company with extensive experience in mining projects and civil infrastructure, ranging from roads, viaducts, hydroelectric power plants, ports, airports and transmission lines, has a portfolio of more than 2.5bn cubic meters of concrete installed throughout the country and has quality management certification.
Awarding the earthworks contract marks an important step in the construction of Araguaia, which is a Tier 1 mining project with a high-grade scalable resource, located south of the Carajás Mining District in the Pará State, north Brazil. The area has a well-developed infrastructure, including roads, rail, and hydroelectric power as a result of the sustained mining activity in Carajás.
The initial 28-year mine life of the FS design generates free cash flows after taxation of $1.6bn, returning an IRR of over 20% on an initial capital cost of $443mn, with predicted sufficient Mineral Resources to extend the mine life, or increase capacity.
The scope of the contract incorporates the 'process plant and supporting infrastructure' components of the bulk earthworks for the ferro nickel plant. The contract scope is designed to ensure the site is ready for the civil construction works on completion.
Copa will level the main plant area, creating a series of stepped plateaus that will support the key process equipment packages and buildings, installing initial drainage facilities, as well as the main ramp and crusher platform.
CEO Jeremy Martin said signing the contract enables it to start construction at the beginning of the dry season this quarter as planned.
"This is another important milestone in our 24-month project construction timeline, with next steps being the award of the civil works, 230 kV powerline and electromechanical construction contracts," he said.
Horizonte appointed Gillian Davidson and Vincent Benoit as Non-Executive Directors in March, signalling a broader evolution of its board as it transitions from an explorer developer through the construction phase and into production at Araguaia,
A Stage 2 expansion gives a 26-year mine life, generating cash flows after taxation of $2.6bn, with an estimated NPV of $741mn and an IRR of 23.8% - using the base case nickel price forecast of $14,000/t. The second line will be financed through operational cash flow, meaning upfront capital cost remains at the same level at the FS Stage 1 of $443mn.
Philipa Varris was recently appointed as Head of Sustainability with immediate effect. She has held leadership positions in sustainability and ESG management in the mining sector for over 25 years, primarily in Africa and Australasia and across a number of mineral commodities.