Supply Chain & Operations
Hummingbird Resources reports high grade gold at Kouroussa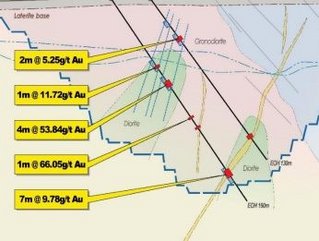 Based on favourable drilling data for 2021, Hummingbird Resources plans to extend the life of the Kouroussa mine to well over 10 years
Hummingbird Resources has received 'very high-grade drilling data' from Kouroussa showing significant gold endowment in the Siguiri gold region in northeast Guinea.
Dan Betts, CEO of Hummingbird Resources, said with its geology and technical teams analysing the data to feed into our upcoming updated 2022 company resources, the overarching strategy is to extend the life of the Kouroussa mine "to well over 10 years".
Hummingbird has received further assay results on 61 Reverse Circulation and three diamond holes on the high-grade Koekoe (KK) deposit, delivering approximately 5,567m out of the company's c.24,000m infill drilling programme for 2021.
To date, and including today's results, it has received c.15,000m of assays from the 2021 programme, with the last assays expected this month, which will be released once received and analysed. Notable drill results from the KK deposit include:
9m at 36.35 g/t from 90m (KRC1856)
14m at 21.85 g/t from 55m (KRC1849)
9m at 30.58 g/t from 96m (KRC1903)
4m at 53.84 g/t from 65m (KRC1844)
18m at 7.37 g/t from 74m (KRC1839)
6m at 18.80 g/t from 57m (KRC1831)
10m at 10.26 g/t from 53m (KRC1924)
5m at 19.02 g/t from 96m (KRC1778)
8m at 9.35 g/t from 49m (KRC1857)
18m at 4.12 g/t from 46m (KRC1840)
10m at 7.34 g/t from 89m (KRC1921)
7m at 10.14 g/t from 92m (KRC1917)
7m at 9.78 g/t from 133m (KRC1844)
1m at 66.05 g/t from 93m (KRC1844)
The KK deposit has a current maiden Reserve of 408,900 ounces ("oz") at 4.38 g/t, with upside potential once all the 2021 c.24,000m infill drilling data are received. Drill assay results continue to support the current interpretation as well as highlighting additional mineralisation zones. The deposit remains open along strike and down plunge.
The Kouroussa Gold Mine is forecast to be a high-grade, low-cost mine which will produce an average of between 120,000 and 140,000oz for the first three years of production and average 100,000oz. Initially, it forecasted a seven-year life for the mine.
It is forecast to produce at an average All In Sustaining Cost in the range of US$900-US$1,000 per oz throughout the LOM, with material upside potential through further exploration drilling which is currently being planned. First gold pour is scheduled for the end of Q2 2023.
The Project is funded through internal cash flows and a group financing facility from Coris Bank International ("Coris Bank"), being a specialist West African bank well known to Hummingbird. Kouroussa has industry leading project economics with key financial metrics at US$1,750 being:
IRR 71%
NPV US$210mn
Cumulative free cash of US$314mn
Capex payback period of approximately two years post commencement of production