Supply Chain & Operations
Luminex Resources raises Condor stake to 98.7% in Ecuador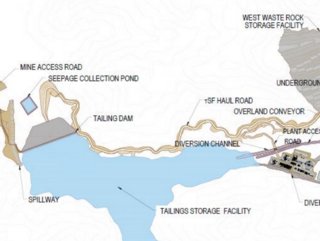 Condor North will have three open pits, one underground mine, two waste rock facilities and one tailings site
Luminex Resources Corp. has increased its ownership interest on certain concessions within its Condor project from 90% to 98.7%.
The Condormining subsidiary directly or indirectly holds the Viche Congüime I, II, III; Chinapintza and Hitobo concessions. These concessions encompass Luminex's Los Cuyes, Soledad, Enma and Camp, collectively Condor North, and Santa Barbara deposits. The five deposits host 2.3mn ounces of contained indicated gold resources and 4.3mn ounces of contained inferred gold resources.
Condor North will have three open pits, one underground mine, two waste rock facilities and one tailings site. The 25ktpd processing plant will be located n a central location adjacent to the portals and pits.
Luminex Resources Corp. is a Vancouver-based precious and base metals exploration and development company focused on gold and copper projects in Ecuador. Its inferred and indicated mineral resources are located at the Condor Gold-Copper project in Zamora-Chinchipe Province, southeast Ecuador.

The company also holds a large and highly prospective land package in Ecuador, including the Tarqui, Pegasus and Orquideas projects, which are being co-developed with BHP Group, Anglo American and JOGMEC respectively.
Wheaton strikes deal with Adventus
Wheaton Precious Metals International has entered into a definitive Precious Metal Purchase Agreement with Alliance Metals International, a subsidiary of Adventus Mining Corporation in respect to the Curipamba Project in Ecuador. Curipamba is forecast to be a high-margin mine in the lowest half of the copper cost curve with a 10-year open-pit mine life and the potential to transition into an underground mine subsequent to the open pit.
"Wheaton has had a successful long-term partnership with Adventus and welcomes the opportunity to support the development of a project the caliber of Curipamba. Forecasted to be a high quality, low-cost mine with significant exploration potential, Curipamba's profile aligns well with Wheaton's accretive growth strategy," said Randy Smallwood, Wheaton's President and CEO. "Adventus has a strong entrepreneurial reputation and shares Wheaton's vision that responsible mining should benefit all stakeholders, including support for the communities around the mines. We look forward to our continued partnership with Adventus and shared success in Curipamba."