Supply Chain & Operations
Mako Mining receives Nicaragua drilling permit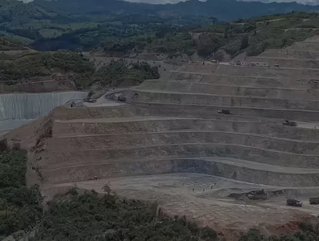 Mako Mining Corp is now permitted to drill up to 800,000 metres at the Potrerillos concession
Nicaragua's Ministry of Environmental and Natural Resources (MARENA) has granted an exploration permit to Mako Mining Corp. at the Potrerillos concession acquired in December 2019.
Starting from November 15, the permit is valid for 10 years and renewable for up to an additional 20 years.  
The company is now permitted to drill up to 800,000 metres, comprising 250,000 metres of diamond drilling, 250,000 metres of reverse circulation drilling and 300,000 metres of blast hole drilling, as well as 12,000 metres of trenching.
Mako Mining Corp, a publicly listed gold mining, development and exploration company, operates the high-grade San Albino gold mine in Nueva Segovia, Nicaragua, which ranks as one of the highest-grade open pit gold mines globally. Mako's primary objective is to operate San Albino profitably and fund exploration of prospective targets on its district-scale land package.
Additionally, as of November 12, all legal documents and procedures, including the public consultation for the La Segoviana concession, located northeast of Potrerillos, are complete. The company awaits MARENA's approval of this additional exploration permit, which is expected over the course of the next 45 days.
Akiba Leisman, ceo of Mako, thanked MARENA on behalf of its team for granting this permit.
"This is yet another example of why Nicaragua is a mining friendly jurisdiction," he said. "Reconnaissance exploration work to date indicates that Potrerillos is the direct strike extension of the San Albino gold deposit, and the receipt of these permits allows us to begin drill testing the approximately 3.5 kilometers of strike potential. The district potential of San Albino is becoming clearer, and these permits will allow us to begin the process of discovery on parts of our concessions that have never been drilled before."
Last month Condor Gold provided an update in support of a Feasibility Study (FS) for its fully permitted La India Project, Nicaragua.
The study is being conducted on La India Open Pit and associated mine site infrastructure, and processing plant design incorporating the 2,300tpd SAG Mill purchased by Condor, has been 100% completed.
The studies currently underway will bring the level of confidence for the project to the industry standard of engineering design, in order to support +/- 15% capital and operating cost estimates.
A review of the initial round of 1700 metres of geotechnical drilling by SRK indicated that an additional 690 metres of oriented core drilling, followed by televiewer logging, will be required to meet FS level confidence.
Work is well underway with supporting field and testing studies nearing completion for the final mine design to commence in November, with publication of the study in the first quarter of 2022.
Mark Child, chairman and ceo, said there are no negative surprises and the project continues to be materially de-risked, nearing a shovel ready status.

"Condor staff and our contractors at Hanlon Engineering, Tierra Group International, SGS Lakefield Laboratories and SRK Consulting (UK and USA) have been diligently pursuing the supporting work for the study for over a year and are making substantial headway in completion of that work, despite the challenges of logistics, market conditions, and of course, the impact of Covid on the ability to travel."
Mining companies are aiming to deliver a gold boom in the Central American nation, but Nicaragua's "super unstable" political environment is threatening to derail gold miners' growth ambitions, with the nation braced for protests after November's election, according to bnamericas.