Supply Chain & Operations
SSR Mining raises stake in Copper Hill to 70%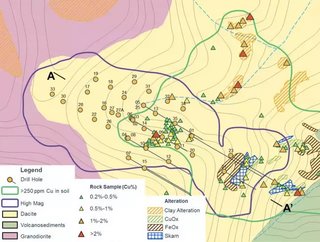 An ownership swap will see SSR Mining transfer 20% of its ownership stake in the Tunçpınar prospect in east-central Turkey to Lidya Mining
SSR Mining has bought an additional 20% ownership in Copper Hill from joint venture partner Lidya Mining, raising its ownership in the asset to 70%.
SSR Mining will transfer 20% of its ownership stake in the Tunçpınar prospect in east-central Turkey to Lidya Mining, reducing its ownership to 30% while retaining a new 0.5% net smelter return royalty on the property. Lidya Mining will serve as operator at Tunçpınar and SSR Mining will operate Copper Hill, which is located in north-east Turkey. 
The ownership swap will provide both SSR Mining and Lidya Mining with the ability to efficiently advance both the Copper Hill and Tunçpınar assets while retaining material economic exposure. The transaction will be completed in early 2022, upon receipt of all customary regulatory approvals.
The changes coincide with SSR Mining reporting positive results from an additional 27 diamond drill holes at Copper Hill from June to September. 
Rod Antal, president and ceo, said Copper Hill is beginning to show real potential as a new development project, particularly given the near-surface and high-grade mineralisation.
"While still early stage, there is good potential to expand the footprint at Copper Hill as we step out exploration drilling. Our exploration and development teams will accelerate the work on Copper Hill, commencing with metallurgical test work and an expanded drilling program."
Drilling at Copper Hill continues to intersect copper sulfide mineralization (chalcopyrite) with impressive grades. The oxide zone appears very narrow and constrained close to surface.
Copper mineralisation in the intercepts is considered "clean", having low levels of other metals or arsenic (<0.01% zinc and lead, with average <60 ppm arsenic levels), which is atypical for skarn-type deposits and bodes well for future economic studies on the property.  Drilling and technical study activities are ongoing to determine the extent of mineralization, subject to drill permits and weather. The target is open in all directions laterally and at depth and starts from the surface.
SSR Mining Q3 trading updates
Production of 186,941 gold equivalent ounces at AISC of $1,006 per gold equivalent ounce
Year-to-date production of 583,316 gold equivalent ounces
Year-to-date AISC of $990 per gold equivalent ounce
Lower 2021 AISC guidance to $1,000 to $1,040
$129 million of free cash flow in Q3
Year-to-date free cash flow of $306 million
On track to return nearly $200 million to shareholders this year
Çöpler processed record tonnes in sulfide plant: Delivered gold production of 82,975 ounces in the third quarter, reporting AISC of $714 per ounce
Marigold delivered gold production of 52,049 ounces for Q3 as the mine moved a record 25.4 million tonnes of material
Seabee mill processed a record 1,400 tonnes per day in September
Puna produced 2.2 million ounces of silver at cash costs of $7.65 per ounce in the third quarter and AISC of $12.32 per ounce
On July 29, it entered into a definitive agreement to sell a portfolio of royalty interests and deferred payments to EMX Royalty Corp. for $100 million