Supply Chain & Operations
Twin Pines Minerals wrestles with green backlash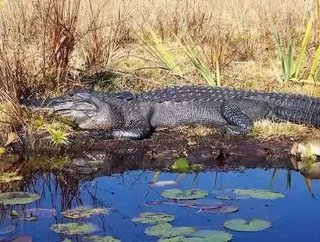 Titanium mine project site would impact thousands of species claim conservationists...
Conservationists have contested a proposed mining project near the Okefenokee National Wildlife Refuge, the largest wildlife refuge east of the Mississippi, stating that the project poses an environmental risk.
The 400,000-acre protected area is home to thousands of species, according to the Public News Service. It was established in 1937 and contains the Okefenokee Swamp, which is considered the headwaters of the Suwannee and St Marys Rivers. 
It provides habitats for endangered and threatened species such as the red-cockaded woodpecker, wood storks, indigo snakes, and a wide variety of other wildlife species. It is also world-renowned for its amphibian population that are considered to be bio-indicators of global health.
A Trump administration rollback of federal wetland and waterway protections removed a hurdle for Twin Pines Minerals, which plans to mine approximately 8,000 acres of the Trail Ridge for titanium, the Public News Service report says.
The Trail Ridge is a natural dam that plays a critical hydrological role, ensuring that water is stored and flowing, says Christian Hunt, southeast representative for Defenders of Wildlife, a US-based, national conservation organisation dedicated to the protection and restoration of imperilled species and their habitats in North America.
"It would result in a degradation of air and water quality," Hunt contends. "It would impact the wilderness and recreational appeal of one of our last great places here in the Southeast."
Hunt explains the Okefenokee is the last self-sustaining, large-scale wetland in the lower 48 states. He points out that other wetlands, such as the Great Dismal Swamp in Virginia and North Carolina and the Everglades in Florida, have also been compromised by industrial and agricultural development.
The Trump administration has removed protections for roughly 400 acres of Okefenokee-adjacent wetlands, previously covered under the Clean Water Act.
It means the Twin Pines mining project requires no federal oversight, although Hunt points out that they do still need state permits. 
"Twin Pines, in short, is trying to avail itself of illegal rollbacks under the Trump administration," Hunt warns.
Twin Pines said it is "spending millions to ensure its investment in the project is sound", which it can only be if the Okefenokee Swamp, adjoining streams and environs are protected and mining work complies with all federal and state regulations. 
Okefenokee, located in North Florida and Southeastern Georgia, is among the top ten most-visited wildlife refuges in the country, and an economic anchor, contributing millions of dollars to the four counties surrounding it, including Baker County in Florida.
Hunt urges concerned citizens to reach out to Georgia Governor Brian Kemp and the Georgia Environmental Protection Division (EPD).
"Hold the Trump administration accountable," Hunt emphasizes. "And then also encourage Georgia EPD to do right by this project, and to take action that's commensurate with the value of the resource at stake."