Supply Chain & Operations
Uranium miner Energy Fuels buys 17 concessions in Brazil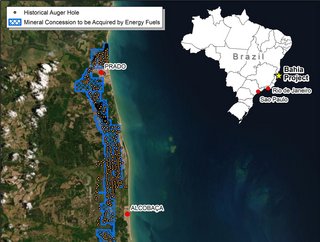 The $27.5mn Bahia Project holds significant quantities of minerals, including monazite, that will feed Energy Fuels' US rare earth element supply chain
US-based uranium mining company Energy Fuels is buying 17 mineral concessions from private mineral rights holders between the towns of Prado and Caravelas in the Brazilian state of Bahia.
The acquisition costs $27.5mn in cash, with non-refundable deposits totaling $2.75mn cash on signing, and additional non-refundable deposits totaling $2.85mn cash due at various benchmarks during the 90-day due diligence period, and remaining $21.9mn due at closing.
The deal covers 15,089.71 hectares and it is believed that the Bahia Project holds significant quantities of heavy minerals, including monazite, that will feed Energy Fuels' emerging US-based rare earth element supply chain.
The Bahia Project has seen no previous mining, but is a well-known heavy mineral sand deposit with over 3,300 vertical historic exploration auger holes, indicating significant concentrations of titanium (ilmenite and rutile), zirconium (zircon), and rare earth elements (monazite).
The project has potential to supply around 3,000-10,000 tonnes per year of monazite sand concentrate to the Mill (depending on production rates) along with 1,500–5,000 tonnes of total rare earth oxides per year, potentially for decades.
Mineralisation is at or near the surface, meaning the material is expected to be relatively easy to recover using standard, low-cost sand mining techniques, including the use of front-end loaders, excavators and/or dredges.
Due to the drilling method used historically, drilling performed to date only averages 5.86m deep, or the average depth of the water table in the region, and the company believes mineralisation is open at depth.
Energy Fuels' primary interest is in the monazite which contains both rare earth elements and uranium. Preliminary assay data indicates the monazite sand contained in the HMS concentrate ranges between 0.62% and 12.82%, and the uranium contained in the monazite is expected to be comparable to typical Colorado Plateau uranium deposits.
It plans to engage industry leaders in mineral processing to complete a Preliminary Economic Assessment under NI 43-101 (Canada) and an Initial Assessment under SK-1300 (US) during late Q1 or early Q2 2023.
Mark S. Chalmers, President and CEO of Energy Fuels, said it marks another very significant step in Energy Fuels' development as a major global rare earth element producer based in the United States.
"We are aggressively seeking to expand our monazite sand feeds," he said. "With guidance from our heavy mineral sand experts, the company has been evaluating the acquisition of monazite-bearing projects. The Bahia deposit ... has the potential to provide Energy Fuels with our own low-cost source of monazite feed that we fully control."
The company expects to supplement its monazite supply in the future with open market purchases, arrangements with existing monazite producers, and/or additional acquisitions. Energy Fuels is in advanced discussions with other current and future monazite producers around the world to provide creative options on how to best build upon our momentum and add further scale.
"We are proving that upon successful completion of this acquisition, we will own and control 'the elements' to supply EV, renewable energy and other technology manufacturers," added Chalmers.