Supply Chain & Operations
Women in Mining: Q & A with Julie Shuttleworth from Fortescue Metals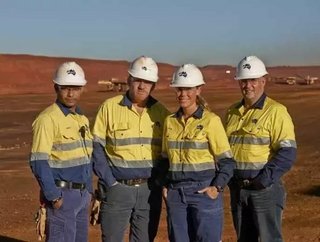 The following article and interview was conducted by MiningIQ.com.Mining has long been regarded as a male dominated industry, with men currently holding...
The following article and interview was conducted by MiningIQ.com.
Mining has long been regarded as a male dominated industry, with men currently holding more than 90 percent of executive positions in the industry globally.
But that's starting to change, with more mining companies committing to increasing female-based managerial positions in their companies and many women moving up the ranks as a result.
According to a recent study by gender consulting company 20 women currently hold eight percent of executive committee positions reporting directly to the chief executive office.
This number is set to rise, with many mining companies implementing initiatives aimed at guiding women into senior roles. 
Earlier this year mining giant Rio Tinto set the goal of having women make up 20 percent of its senior managers by 2015, up from 14 per cent last year. 
Fortescue metals is another company committed to increasing the involvement of women in the industry, introducing SWIFT (Supporting Women In Fortescue Together) in March 2013, to enhance the networking and mentoring opportunities available to women within the company.
Julie Shuttleworth, General Manager of Cloudbreak Mine at Fortescue Metals, is one woman who knows what it takes to advance a career in mining.
With 20 years experience in the mining industry, Shuttleworth's General Manager roles have seen her work at Buzwagi Mine in Tanzania, the Granny Smith Mine in WA, and in her current role at Fortescue's Cloudbreak Mine where she is responsible for over 3000 people and an operational budget of $1.5 billion per year.
Mining IQ recently caught up with Julie to explore the challenges she has faced in her career so far and her tips for women looking to further their own careers in mining.
Q: What career achievement are you proudest of to date and why?
A: A career highlight was working in Tanzania and taking Buzwagi Gold Project from feasibility study, through design and engineering, construction and commissioning, to an operating mine and process plant over the period 2006 to 2009. I was responsible for recruiting and training a team of Tanzanians that had never worked in a process plant before. The project was delivered on schedule and budget with strong safety and environmental performances. I then went on to become General Manager of that mine, at the age of 35, responsible for approximately 2000 people.
Q: Mining has long been regarded as a male dominated industry – how has this changed from the start of your career to now?
A: The mining industry provides fantastic career opportunities for women and the focus by companies and individuals to attract and retain women in mining is having a positive impact. There are many successful women being role models and mentors for others.  I have seen many initiatives implemented to make the mining environment and culture a better place for women to work, examples include strong focus on respect in the workplace rules and training, women's work clothing now available, improved maternity leave policies, exercise classes at FIFO mine villages, provision of mentors and career development, seminars, awards and networking opportunities for women in mining, and regularly 50% of graduates hired at site are women.  These factors, and many more, are steadily increasing the portion of women in the mining workforce, but we still need to continue our efforts.
Q: Working in mines can be tiresome and demanding. What strategies do you use to maintain an effective work/life balance?
A: I am very focused on getting balance, it starts by eating healthy, exercising regularly and keeping a positive outlook. Being organized and well-planned I ensure time is available to do things that recharge me and give me positive energy. I have a range of interests, such as scuba diving, canyoning, hiking, rock-climbing, mountain-biking, camping, underwater photography, and traveling, so I make sure I get time away for those fun things too. Other strategies include spending time with family & friends, playing piano, vegie gardening and Tai Chi. I've traveled to over 90 countries, have a fantastic career and a lot of fun at the same time! But it takes effort and organization to make time for these things, it just doesn't miraculously happen!
Q: What advice or tips do you have for women looking to further their career in mining?
A: My top 5 tips for women looking to further their careers in mining are:
The key thing is to deliver results for the business, lead by example, and be approachable. This is what gains trust and respect from the workforce and peers.
Be confident and positive in how you communicate and present yourself.
Be authentic. Don't change the person you are, to try to fit in.
Go for it! Set your goals, and communicate your career aspirations with relevant stakeholders who can help you along the way.
Smile! Have fun, enjoy life! Make the effort to get good lifestyle balance and do things that give you positive energy.
Q: What are some of the biggest challenges you face when it comes to managing 3000+ people in your current role? How have you addressed or overcome these challenges?
A: Being responsible for approximately 3000 people, my key area of focus is to ensure strong and unwavering commitment to safety by everyone; to ensure equipment, processes, systems and behaviours are at the required standard to prevent injuries, and continually drive improvement in safety culture. It is also really important for me to be approachable to the whole workforce so they feel comfortable speaking to me or contacting about anything. 
Methods used to achieve this include: 
• I attend pre-shift meetings, get out into the field for at least several hours every day, spend time doing safety interactions and speaking with people.  This ranges from getting on a truck with an operator in the mine, walking around the plant with a processing operator, talking to fitters fixing mobile equipment.
• At Cloudbreak we have a fantastic leadership team, dedicated supervisors, committed safety representatives and an empowered workforce, committed to these same things.  Our collaborative teamwork helps drive ongoing improvements in safety.
• I set clear safety KPI's and expectations for the team then lead by example. The management team holds people accountable and is consistent in dealing with anything sub-standard.
• We regularly engage all levels of the workforce, through safety committee meetings, weekly leadership sessions, and quarterly communication sessions to the entire workforce.
• Positive safety performance and initiatives are recognized on a monthly basis through an established recognition program.
• I also find the open office environment encourages people to find the General Manager more approachable.
Q: Based on your experience, what role does corporate leadership have to play in increasing employee job satisfaction?
A: Corporate leadership sets the tone for company culture and company values, which directly impacts employee job satisfaction.  Of utmost importance is the commitment and examples set in leading safety from the top of the organization.
Q: Looking back on your career so far, what lessons have you learned? Would you do anything differently?
A: Key lessons learned and things that are important to me are:
• Lead by example and be totally committed to safety.
• Be authentic, be yourself. Don't change the person you are.
• The best way to build strong relationships and trust with the team is by spending time in the field, communicating and being approachable.
• Collaborative teamwork delivers the best results.
• It takes effort and organization to achieve good balance with work and recreation.  Make sure you do it, its key to being positive and keeping energized.   
• Awareness that most feelings of stress are from my own self-induced pressures.
• Delegate and empower others, you can't do everything yourself (even when you want it done quickly!). Realize that a good leader doesn't need to know or do everything. 
Respect other cultures and realize the value of diversity;understand that some people have different beliefs than you.