BHP starts solar installations at Leinster Nickel Operation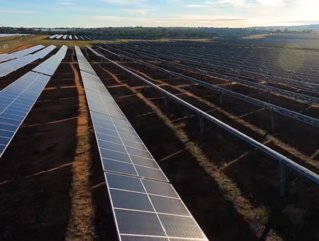 By the end of 2022, over 20,000 solar panels will go into the Northern Goldfields, helping to power BHP Nickel West's mining and concentrating operations
The first solar panels have started being installed this week at BHP's massive solar farm at Leinster Nickel Operation in the Northern Goldfields.
By the end of 2022, over 20,000 solar panels will be installed, helping to power BHP Nickel West's mining and concentrating operations at Leinster.
The Northern Goldfields Solar Project, to be constructed and owned by one of BHP Nickel West's renewable energy partners TransAlta, includes a 27.4 MW solar farm at Mt Keith Nickel Operation and a 10.7MW solar farm and 10.1MW battery at Leinster Nickel Operation, which will be integrated into TransAlta's Northern Goldfields remote power grid.

The project, which will replace power currently supplied by diesel and gas, will help BHP Nickel West reduce Scope 2 greenhouse gas emissions at its Mt Keith and Leinster operations by 12% resulting in an estimated reduction of 54,000 tonnes of CO2 in the first 10 years of operation.
The construction phase has created more than 100 direct and indirect jobs in the Goldfields and Perth regions and is expected to produce its first solar power by the end of 2022.
BHP Nickel West Asset President Jessica Farrell said BHP was meeting its commitment to deliver sustainable low carbon nickel to its customers, a product that is in high demand to power batteries and electric vehicles.
"The Northern Goldfields Solar Project is BHP's first off-grid large-scale renewable energy project across our global operations and, significantly, will remove the equivalent of up to 23,000 combustion engine cars from the road every year, supporting our greenhouse gas reduction targets," Ms Farrell said.
TransAlta is also working with BHP Nickel West to identify potential wind sites for a 40 to 50MW wind farm, which would connect to TransAlta's northern grid and reduce Scope 2 greenhouse gas emissions at BHP's Mt Keith and Leinster operations.
Adding wind will increase renewable energy supply to support BHP's growth and further each company's sustainability goals. BHP's Mt Keith Operation is set to receive over 51,000 solar panels.
In FY2021, BHP's operational GHG emissions (Scope 1 and 2 from operated assets) were 16.2 MtCO2-e, compared with 15.9 MtCO2-e in FY2020.
Last week BHP signed an MoU with India's Tata Steel, one of the world's largest steelmakers, with the intention to jointly study and explore lower carbon iron and steelmaking technology.
Under the partnership, BHP and Tata Steel intend to collaborate on ways to reduce the emission intensity of the blast furnace steel route, via two priority areas – the use of biomass as a source of energy and the application of carbon capture and utilisation (CCU) in steel production (click here).