Dimitar Tsotsorkov named SDG Digital Transformation pioneer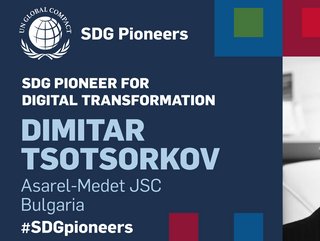 The Chairperson of Bulgarian copper mining and processing firm Asarel-Medet becomes first manager of a mining company to win the prestigious pioneer award
Dimitar Tsotsorkov has been recognised as a Sustainable Development Goals (SDG) Pioneer for Digital Transformation.
The Chairperson of the Supervisory Board of the Bulgarian copper mining and processing company Asarel-Medet was among 10 business leaders awarded as pioneers in the United Nations Sustainable Development Goals this year.
He reached the final round of the global competition having become a SDG Pioneer in the national competition conducted by the UN Global Compact Network Bulgaria.
The 10 world business leaders for 2022 were announced during the UN Global Compact Leader Summit in New York on June 2. They were nominated among national winners by committee consisting of representatives of civil society, academia, the UN Global Compact, the UN administration and previous SDG Pioneers winners, the international organisation announced.
As a representative of Bulgaria, Tsotsorkov was acknowledged in the category of digital transformation for the contribution that innovative solutions bring to achieving the sustainable development goals in industry and the impact that technological progress exercises on environmental protection.
The global award has been bestowed every year since 2016 and this is the first manager of a mining company in the world who has won the prestigious award so far.
"I would like to thank the entire team of Asarel-Medet, because this is an acknowledgement of the efforts, investments and good work of all our colleagues," said Tsotsorkov.
"The UN Global Compact Award shows that old time stereotypes about mining can be broken since our industry is not only a background, but also a driver for plenty of innovations and copper is a fundamental commodity for the development of green technologies of the future."
In his opinion, modern digital solutions allow businesses to manage their processes much more efficiently, reduce their carbon footprint and take a much better care of the environment, energy efficiency and resource management.
"We implement the most state-of-the-art integrated solutions, invest in innovations and make the best use of technological advances, but people remain our most important asset because they carry the charge of change and development," he added.
Tsotsorkov accepted the award as an acknowledgement of his father's vision, Prof. Dr. Lachezar Tsotsorkov, for the good work of the entire team and investment in new technologies.
"The last two years have reminded us how invaluable words like peace and health are to us. It is most important for us now than ever to be united by shared values and common causes, to be humane and compassionate to other people's pain, to be wise and empathetic," he added, highlighting the social projects of the Asarel Foundation and Lachezar Tsotsorkov Foundation and their contribution to Bulgarian society.