Mining Indonesia's Oceans: The Next Major Extraction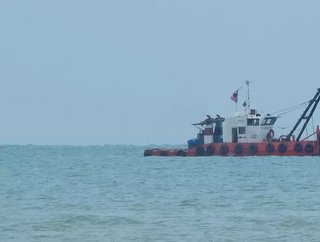 As land deposits dry up, PT Timah has turned to the sea—angering environmental groups and local NGOs in the process
Ever since the early 19th century, Indonesia has been one of the world's primary sources of tin. We use its reserves in alloys, conductors, platings, circuit boards, and consumer electronics. For each mobile phone manufactured, we need approximately seven grams. And as Businessweek reported, Indonesia's national tin corporation, PT Timah, directly supplies Samsung and indirectly supplies Sony, Apple, and LG. 
But as demand for tin grows, PT Timah has already extracted the majority of its land deposits. Sumatra, as of today, looks similar to the moon—filled with deep craters and acidic lakes. Therefore, the mining company is taking its operations to the depths of the sea. After all, PT Timah stands to profit. Compared to 16,399 tonnes of onshore tin reserves, the company estimates that it has 265,913 tonnes of offshore tin reserves buried deep in the ocean floor. 
How Does Ocean Mining Work? 
Each morning, miners leave Indonesia's islands to dredge up tin ore. They operate pontoons with lengthy pipes that reach down to suck up sand from the ocean's bed, pump it across plastic mats, and trap the glittering tin ore. For each kilogramme of tin they salvage, miners receive US$4.90 to US$5.60—and ships sometimes gather up to 50kg per day. 
As ocean mining ramps up, Timah's new tactic is "Go offshore, go deeper". The company has invested in new mining technology such as bucketwheel dredgers, which can reach up to 70 metres below the seabed. According to Edy Mulyana, a local hotel manager, the government originally claimed there would only be one or two mining ships. "But actually, there were 20, 30, 40 ships", he said. "So many I couldn't count". 
Indeed, the mining process takes place on hundreds of pontoons per day, especially in the Bangka and Belitung provinces. Together, the regions produce 90% of Indonesia's tin and make the island nation the second-largest exporter of tin in the world. For locals, their livelihood depends on it. "There's no other work here", said Alik, a local manager of 20 pontoons. "Finding tin ore is like gambling. If you're lucky you'll find a lot and get rich for the day. If not, you earn just enough for a little food". 
International Concerns and Eco-Conflict 
Though Bangka's economy survives largely due to PT Timah, the island and its people are no stranger to tragedies. Miners lose limbs, drown, and suffer diving accidents all the time. Furthermore, informal and sometimes illegal operations have little government oversight and no accident compensation. As a result, Friends of the Earth (FoE)—the environmental organisation that won the lawsuit against Shell earlier this year—has started to push smartphone companies to make a change. 
First, FoE has asked Samsung and Apple to address human rights and environmental issues within its sub-tier supplier operations. "Samsung and Apple have the power to help improve the situation [in Bangka]", said Julian Kirby, an FoE representative. Both companies, as well as Sony and LG, have since assured FoE and the Guardian that they intend to ensure mining visibility and transparency. 
Finally, ocean mining has placed PT Timah in direct competition with Indonesian fishermen and local NGOs. Offshore mining rigs can catch and rip fishing nets, while fish grow scarce due to coral pollution. Yet Indonesian miners argue that the new ocean operations are the way forward. "Our income is diminishing", local tin miner Hendra explained. "[On land], there are no more reserves".