IDS GeoRadar launches Stream DP 3D utility solution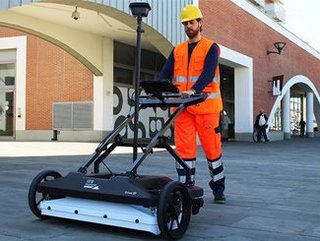 Stream DP features patented EsT technology which equalises shallow and deep reflections, thereby overcoming limitations of traditional GPR solutions
IDS GeoRadar has launched Stream DP 3D utility mapping solution that uses multi-channel ground penetrating radar (GPR).
Stream DP features patented EsT technology which equalises shallow and deep reflections, thereby overcoming limitations of traditional GPR solutions, and its lightweight structure makes it easy to transport.
Pulse-per-second integration into Stream DP's antenna supports precise synchronisation with GPS, ensuring users achieve the most accurate positioning data. The system integrates with latest software solutions for data collection and post-processing, such as uMap on-field software and IQMaps post-processing software.
"Stream DP with EsT technology can reach the deeper target and offer exceptional underground clarity output," said Davide Pasculli, GPR system engineer at IDS GeoRadar. "Professionals are supported in their tasks by a GPR array solution that enables a safer survey of the underground."

IDS GeoRadar, a Hexagon company, provides products and solutions, based on radar technology, for mining, civil engineering and monitoring applications.

Alongside GPR it specialises in and Interferometric Radar solutions worldwide. IDS GeoRadar is committed to delivering performance solutions and to the pursuit of product excellence, through the creation of application-specific, innovative and cost-efficient systems for a wide range of applications including mining, utility detection and mapping, civil engineering, geology, archaeology and public safety.
In May it launched AiMaps, offering intelligent cloud-processing of Ground Penetrating Radar (GPR) data to provide clean uncluttered information for faster detection of underground utilities. Adopting the use of AI in underground utility detection, AiMaps facilitates analysis with a smart and straightforward cloud-based solution to speed up productivity.

AiMaps works with the post-processing software application IQMaps for advanced GPR data analysis and utilises Hexagon's HxDR digital reality platform - offering an advanced cloud solution and deep learning service - to handle the complexity of radar data processing.