Reach for the sky: Airware and the future of drones in the mining industry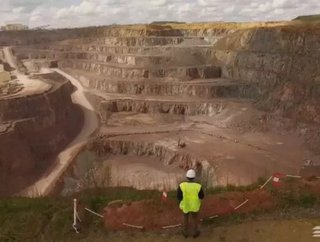 The future of mining is being shaped by the technology of today. technological innovation is transforming the mining industry by the day largely through...
The future of mining is being shaped by the technology of today. technological innovation is transforming the mining industry by the day largely through operating technology such as heavy machinery and automation. But what of the role of data analytics and mine site analysis?
Step forward Airware. Airware is a company that has been providing Fortune 500 companies with complete enterprise drone solutions and in September last year, the company acquired Redbird, the France bases data analytics platform for mining, aggregates and construction industries.
For founder and CEO of Airware Jonathan Downey, it was only a matter of time before drone data analytics technology took hold of the mining industry.
"Construction and excavation sites, such as mines as quarries, must be managed and operated digitally in order to compete in today's markets," he says.
"Commercial drone technology like Airware brings mining operations into the digital world all the while offering faster, cheaper and higher-quality data analytics,"
In the current mining industry, one that is faced with cost reductions and, according to a McKinsey report in June 2016, 28 percent less productive than a decade ago, Airware and the acquisition of Redbird is a breath of fresh air and offers optimism for the future of the industry.
Airware was founded by Jonathan following a combination of his passion for aviation, through his father teaching him to fly in his childhood, and engineering and developing electronics and software solutions through high school and college.
Downey also worked as a commercial air pilot for some time and was involved directly with Boeing on the development of a 6,000 lb fully autonomous world record breaking helicopter. Following his time as a pilot, Jonathan founded Airware after seeing a shift in the focus of technology solutions in the industry.
"I saw technology was becoming available in a smaller form factor and at a price point where it could address commercial flight applications through drones," he says.
"But I also saw an industry that was focused on the drones themselves and not on the enterprise software required to make the data collected by these drones actually actionable by large enterprises,"
Airware provides exactly that – enterprise solutions in which large enterprises can utilise the data collected through drones. The company has worked in a number of sectors across Europe and America, but it has only been recently that Downey has decided to take Airware into the mining industry
"We've had our eye on the mining industry for some time but only from a far. Through Redbird we have finally entered that space and acquired all the visualisation and data analytic applications and platforms associated with that vertical,"
With commercially flying drones comes the question of regulation and airspace and whether we are going to see the skies full of drones flying around like a scene ripped out of classic science fiction. The Federal Aviation Administration, an operation mode of the U.S Department of Transportation, essentially governs the skies. For a company like Airware, establishing a key working relationship with the FAA has been crucial in the growth of the company, after all, if Airware plans on working with customers to commercially fly drones then it needs to adhere to governmental regulations.
This is something that Downey has been all too aware of.
"Airware was one of the first companies to partner with the FAA and work in a collaborative fashion, which has helped us grow and better serve our customers on an immeasurable scale," he says.
The partnership and collaborative nature of work with the FAA has in fact been so instrumental in the future of commercial drone use that Airware is featured numerous times in the latest iteration of the FAA regulations on commercial drone use.
So how does Airware fit into the mining industry? As noted, Airware develops complete drone solutions that will help fortune 500 companies solve business problems. Downey indicates that this is most typically operational cost savings, enhancing of worker safety and the improvement of decision making.
"The current mining industry is facing lower productivity levels than the same time a year ago, productivity is a big issue in the industry," says Downey.
"Companies want to achieve more with the same number of machines that they have today, and that's where Airware comes in," he says.
Airware works closely with clients to understand all elements of the operation, from material to production, excavation, blasting, transporting and inventory management. The company ties together all the information from machines, materials and all other sources of information from the mine site to allow companies to identify where improvements can be made.
With any technological innovation that stands to change the ways of working of an industry there comes with it a sense of risk and even fear of adoption. Airware is no stranger to that. The company is essentially changing the way mining companies can analyse mine site data, efficiency, health and safety of workers and productivity. Larger mining organisations will have been using established methods of doing so for years but Downey believes that it was simply a matter of if and not when drones will become the norm across the industry.
"The industry is convinced that commercial drones are an inevitable part of their future, or even their present," he says.
"In most cases, it's about when are they going to adopt this new technology and what is the best way to do so,"
Downey has seen that despite this inevitability, there are varying levels of risk averseness in the industry. There have been motivations on both ends of the spectrum, early adopters versus late adopters. In the mining industry, with declining productivity and a more competitive environment some companies have been rapid adopters, while others have been happy to wait and see the success of the technology first and then adopt later.
Part of the way that Airware has been so successful is through having the right likeminded and talented people working for the business to really take the company further and further. Recruiting these people hasn't been an issue for Downey.
"This is a technology that excites people. We've all dreamed as kids of developing robots and flying our own technologies and Airware has been the perfect platform to realise those dreams,"
The mining industry has proved to be one of the more competitive markets in commercial drone technology. Airware entered this industry knowing full well of the various technology players already in the market. What convinced Downey to do so was the company's understanding of large enterprises and what enterprises expect – a complete solution.
"Airware, via the acquisition of Redbird, is the most complete solution of this vertical," he says.
As a demonstration of the key role that Airware will play in the industry, Downey and a number of representatives recently attended MINExpo 2016. This represented a great opportunity for the company to meet with existing clients, network with potential clients and learn more about the industry.
One such client was Caterpillar, which has been working with Redbird (now Airware) on drone solutions and has announced plans to extend an already existing agreement with the company.
For Downey, attending events and tradeshows such as this calls back to the very notion of what started Airware in the first place, for it was at an even that Downey first understood and noted the "missing key" for technology was drone solutions in the industry.
Fresh into the mining industry, the only way is up for Airware and Downey is excited for what the future holds.
"It's an exciting industry, one of constant innovation all of the time. It's an environment that I am very passionate about, so the ability to combine this with aviation through Airware is an opportunity that I am thrilled to have, to pursue and to really push forward."