Rio Tinto goes solar at Weipa mine in Australia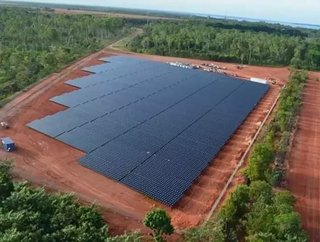 Rio Tinto and the Australian Renewable Energy Agency (ARENA) have commenced the Weipa Solar Plant in northern Queensland to generate electricity for its...
Rio Tinto and the Australian Renewable Energy Agency (ARENA) have commenced the Weipa Solar Plant in northern Queensland to generate electricity for its remote Weipa bauxite mine, processing facilities and associated township.
• Related content: [WATCH] Weipa bauxite mine - 50 years & 500 million tons
The two phase project will see the Weipa Solar Plant generate up to 2,800 megawatts of electricity annually, including supplying 20 percent of the town's daytime electricity demand. This is the first time a commercial diesel displacement PV system has supplied power to a remote Australian mining operation on such a scale.
"We expect the energy from the solar plant will help reduce the diesel usage at Weipa's power stations and save up to 600,000 liters of diesel each year," said Rio Tinto Weipa Operations general manager Gareth Manderson.
"This will reduce Weipa's greenhouse gas emissions by around 1600 tons per year - equivalent to removing around 700 cars."
ARENA is funding the project, providing an initial $3.5 million on the first phase with an additional $7.8 million for the second phase. Rio Tinto will purchase the power from the project under a 15-year power purchase agreement.  
"This power purchase arrangement is an opportunity to trial the introduction of an alternative power source such as a solar plant into a remote electrical network like the one here in Weipa," said Manderson.
• Related content: Rio Tinto enlists drone technology in Western Australia to drive efficiency and safety
The solar technology, which is developed by US-based First Solar, involves 18,000 photovoltaic (PV) modules in combination with the company's FuelSmart micro-grid integration technology to convert light from the sun directly into power.
"It is already widely acknowledged that solar electricity is typically cheaper than diesel-powered electricity, particularly in remote locations," said Jack Curtis, First Solar's Regional Manager for Asia Pacific. "The significance of the Weipa Solar Plant is that it provides the opportunity to demonstrate that PV-diesel hybrid projects can also be as reliable as stand-alone diesel-powered generation."
According to Curtis, the next 12 months are "critical" to gather data from the project in order to accelerate the adoption of solar power at remote mine sites.
"We're seeing the initial interest but like most things in this industry, [mining companies] really want to see something deployed and in doing that with this project with Rio I think it's going to be quite industry-changing in that respect," said Curtis.
• Related content: [How To] Save on Operational Costs with Solar Power
"Proving this commercial model has the potential to be a watershed moment for the diesel hybrid application globally."
The first phase of the project is expected to run for nine to 12 months before implementing the proposed second phase, which will increase capacity to five megawatts and include an electricity storage system. 
WATCH: Weipa Solar Plant - Construction timelapse
Stay connected! Follow us on Twitter and like us on Facebook