Supply Chain & Operations
5 ways digital transformation optimizes steel production
By Martin Provencher, Global Industry Principal for Mining, Metals and Materials at AVEVA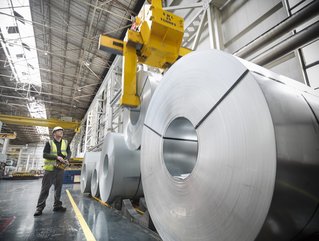 As overall steel industry growth remains uncertain, companies must use investment to improve asset efficiencies for increased ROI
As the world's most important engineering and construction material, steel is essential to the global economy. Close to 2 billion tons of this durable and versatile metal are produced every year.
Yet, the steel industry has had to deal with its fair share of challenges in recent times. Although recovery from the pandemic turned out to be stronger than expected, economic events and geopolitical turbulence around the world this year have led to an uncertain medium-term outlook for the industry. Broader operating constraints such as an aging workforce, new environmental regulations, intensifying competition, and shifting global trade flows will only compound those anxieties.
The World Steel Association forecasts that demand will stay flat at 0.4% this year with a total output of 1840 metric tons, before climbing to 2.2% and 1,881.4 metric tons in 2023. Over the longer term, steel use is projected to increase significantly, growing by around 20% from present levels to meet the needs of a growing population.
Those contrasting dynamics are why the sector is turning to digital transformation to leverage value efficiencies and increase its return on investment (ROI). Favorable prices and high output volumes in 2021 have rewarded many companies with high capital buffers. Many are choosing to invest them in digital transformation.
Overall, steel manufacturers' investment into digital transformation solutions is expected to reach $5.9 billion by 2031. That's a combined annual growth rate of 10.9% between 2022 and 2031, according to ABI Research. Investments should encompass solutions such as manufacturing execution systems (MES) to increase product quality and productivity, and predictive maintenance to ensure safety and reduce costs. Solutions based on artificial intelligence (AI) and digital twins can support improvements in operations and also in engineering. Brownfield and greenfield projects might be required to help manufacturers to reach their sustainability, safety and productivity goals.
Research indicates that Industry 4.0 technologies are finding wide application in process chain control and in areas that require managing large volumes of data. Benefits are mainly expected in areas such as asset reliability, cost reduction and quality enhancement, safer and healthier workplaces, and improved environmental impacts through a reduction in waste, emissions and resources used.
Streamlining energy efficiency
Steel production is an energy-intensive process. Maximizing energy use is therefore integral to rationalizing the associated operating costs. Industrial software solutions can give engineers and managers access to production data in real time, enabling them to make efficiency adjustments that add up to significant cost savings across the value chain. Such data also offers opportunities for compliance with existing and upcoming sustainability and environmental regulations. Finally, when contextualized over time, this historic data can reveal new ways to unlock business value.
Strengthening asset reliability
The reliability of industrial assets influences overall performance, safety and cost. Modern operational data management systems help address these concerns by way of predictive maintenance, which enables asset managers to accurately determine equipment condition while in service. Routine maintenance thus becomes less of a priority and unplanned downtime is nearly eliminated.
Deloitte data shows that predictive maintenance can increase equipment uptime by 10-20%, and cut overall maintenance costs by 5-10%. Since equipment upkeep is only conducted with good reason, data-driven asset maintenance also enhances worker safety – while helping reduce the overall carbon footprint.
Czech steelmaker Liberty Ostrava used the AVEVA PI System to closely monitor its blast furnace taps and forecast potential maintenance issues. The data enabled simple workload and temperature adjustments that reduced fuel consumption, improving quality by 15% and cutting production losses by 10%.
Enhancing situational awareness
As production facilities embrace digitalization, teams may encounter data gaps that hinder collaboration and problem-solving. Because of legacy solutions and piecemeal implementation, plant data often rests in silos, leading to delays and bottlenecks. Integrated data management solutions resolve the issue by providing a single source of truth for teams to visualize data in context alongside actionable insights. This situational awareness improves yields and cost cycle times, laying the groundwork for continuous improvement.
Ontario, Canada-based Essar Steel Algoma benefited from visibility into its operations and asset health in terms of unplanned delays in its Direct Strip Production Complex by up to 5%. The result was a 140,000-ton production increase.
Reducing costs for better ROI
In challenging operating environments, delivering the highest volumes of tonnage at the lowest cost becomes more important than ever. Tracking the health and performance of production assets in real time meets both objectives, supporting effective resource allocation to maximize profitability while keeping operating costs to the minimum – and improving overall returns on investment.
Steel multinational ArcelorMittal Dofasco integrated data from its existing condition monitoring software into the AVEVA PI System to obtain an accurate picture of overall equipment health to support informed maintenance decisions. The company saved $1 million per year per furnace, totaling to a projected $19 million. Asset availability increased by 13%, and yield and quality grew 15%.
Delivering stable and predictable outcomes
Mining companies produce large quantities of data every day. That data contains potentially valuable insights that can improve asset health, streamline processes, reduce downtime and deliver predictable and dependable outcomes. Digital infrastructure tools help unlock these insights with the use of statistical modeling, machine learning and artificial intelligence techniques, revealing patterns that identify future risks and opportunities.
With advanced analytics tools for predictive maintenance such as AVEVA Predictive Analytics, plant managers are alerted well in advance to potential issues, for example when bearings in mill rollers will need to be replaced. Combined with deep learning solutions, predictive analytics can even forecast an asset's remaining useful life.
Benefits across the value chain
The digitalization of plant infrastructure is now more essential than ever for steel companies. As the industry reckons with the impact of a changing operating environment, digital transformation provides the opportunity for producers to improve operational efficiencies and enhance profit margins – in line with social and environmental considerations.
The agile deployment of market-proven tools, whether in engineering or operations, will go a long way to unlocking these benefits and help transform conventional steel operations into intelligent, resilient, and sustainable undertakings.