Supply Chain & Operations
Boss Mining signs Community Development Plan Agreement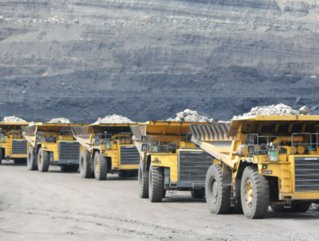 Copper ore at Boss Mining
Eurasian Resources Group (ERG) Africa announces a significant step towards sustainable community development in DRC's Haut Katanga
On August 26 ERG project Boss Mining signed a Community Development Plan Agreement (Cahier des Charges) committing to support local, sustainable development initiatives in the Democratic Republic of Congo (DRC) that will impact the lives of approximately 84,000 people – over the next five years.
Boss Mining has a long history of copper and cobalt production in DRC from significant open-pit resources and produces cobalt oxide and sulphide concentrate, cobalt carbonate, cobalt hydroxide and copper cathode. It is located in the south-eastern Lualaba and Katanga provinces.
The Cahier des Charges was collaboratively developed through dialogues between Boss Mining, community members, and government officials. The projects were then collectively agreed upon to ensure transparency, align expectations and establish collective ownership among all stakeholders. Speaking at the ceremony, Mr Giresse Kalombo, Assistant Supervisor of the Boss Mining Cahier des Charges (representing the Lualaba Provincial Minister of Mines and Hydrocarbons) said, "It should be noted that the commitment of both parties, Boss Mining on the one hand, and the communities impacted by its projects on the other – which we supervised on a daily basis – led to the signing of this socio-economic agreement for sustainable development. This marks an era of open collaboration between the mining company and the communities impacted by its projects."
The consultation phase, which commenced in May 2022, identified five priority areas of development: health, water, education, agriculture, and communication. The resulting agreement encompasses initiatives that address immediate community challenges, as well as long-term development projects to create lasting impact. Initiatives include constructing and furnishing clinics and healthcare centres; providing a new ambulance for medical emergencies; building two morgues to provide respectful funerals; implementing solar-powered borehole systems for easier access to water; and setting up a community radio station to keep communities connected and informed.
Mining boosting community development
The agreement also includes the construction of new primary and secondary schools with equipped classrooms, as well as refurbishing and adding classrooms to existing schools in the area. Boss Mining will also build a technical school in Kakanda where community members can qualify as technicians, mechanics, and electricians – which will position them for employment opportunities or to establish businesses that can be integrated into the regional supply chain. Mr Joachim Nzuzi, ERG Africa's Chief of Staff, commented, "We firmly believe that education is the key to unlocking opportunities and breaking the cycle of poverty. Through education and capacity building, we are striving to develop the skills of our communities so that they can become the skilled workforce and entrepreneurs of tomorrow and, most importantly, to become the next generation of leaders who will bring positive change to their communities."
The reach of Boss Mining's existing agriculture programme will also be extended, and will include establishing farmers' associations, and equipping farmers with additional materials, tools, and capacity building to facilitate higher crop yield and aid the transition from subsistence farming to profitable agriculture. These interconnected initiatives aim to empower Boss Mining's surrounding communities to engage effectively and equitably in skilled employment, agricultural markets, and value chains that foster community resilience, food security, and economic participation. "The agreement we have entered into comes from the unwavering dedication of both Boss Mining and its communities to foster a mutually beneficial relationship. It is a testament to the strong bonds we have forged in working together towards our common goal – which is harnessing the power of responsible mining to bring about broad-based upliftment," said Ms Mimi Lukonde, ERG Africa's Safety, Health and Sustainability Administrator.
The mine is on track to produce an average of 21,600 tons of copper and 3,600 tons of cobalt hydroxide annually, but operations were halted in March by the DRC government following a waste leakage but can now restart. That it is valued by the community is clear from the remarks of Mwami Munongo Mwenda Bantu Godefroid Junior Kaneranera, Grand Chief of the Bayeke people, at the time of signing. "We have come a long way with Boss Mining. It was the lifeblood of Kakanda and the surrounding areas, but when Boss Mining closed, we were all miserable, traditional chiefs and local people alike. It was a dark time. Our children were suffering. For us, this is a rebirth, a revival, that Boss Mining can come back and sign this Cahier des Charges with us. We have always trusted you, and you have always supported us. We bless you from the bottom of our hearts."