Supply Chain & Operations
Canadian wildfires put a stop to Quebec mining activities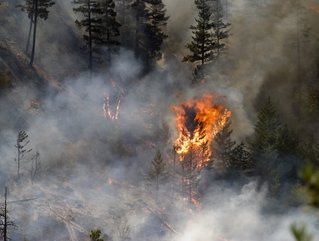 Companies to halt their work include Canada's Iron Ore, which is predominantly owned by Rio Tinto, as well as Hecla Mining directly in the Quebec region.
Forest fires in Canada are forcing mass evacuations, particularly in Quebec, leading to the suspension of mining operations due to safety concerns
Huge forest fires have swept Canada, especially in the Quebec province, over the past several weeks and have subsequently forced miners to suspend operations and fieldwork because of safety concerns. Companies to halt their work include Canada's Iron Ore, which is predominantly owned by Rio Tinto, as well as Hecla Mining directly in the Quebec region.
In addition to workers safety, restrictions have also been put in place which has ultimately resulted in limited access to public lands on account of the fires. These regulations have affected predominantly southwestern Quebec, including regions close to mines and prime exploration grounds.
Unprecedented fires lead to mass disruption and concern
According to S&P, the fires have burned 3.3 million hectares of land across the country, consequently affecting more than 100,000 people who are under evacuation orders. Some of the worst fires are in the Quebec province, a 'hub' for Canada's mining industry.
Chibougamau, the largest town in Northern Quebec, with a population of about 7,500, was evacuated Tuesday. Montreal-based Environment Canada meteorologist Simon Legault has said that no significant rain is expected for days in the remote areas of central Quebec where the wildfires are more intense.
Plenty of companies have either evacuated or paused work for at least the near future. Canada's Iron Ore has ceased operations in Newfoundland, as it could not ship products due to its telecommunications infrastructure and power lines remaining affected. In addition, Hecla Mining has paused its gold mining operations as a result of government emergency orders preventing access to land in Quebec which is close in proximity to the fires.
Underground mining operations at Eldorado Gold's Lamaque mine were suspended between 2nd and 3rd June and until 5th June due to heavy smoke. The mine is now back in operation. Michelle Halsey, Eldorado's senior manager of communications, said in an email to S&P:
"The situation is re-evaluated before the start of each shift with our health and safety and ventilation experts, since air quality varies from day to day and even from hour to hour, in order to validate whether conditions are adequate to allow continuity of our underground operations."
2023 is a tough year for forest fires
Among the most affected are the explorers who had to evacuate their crew completely and close field operations. In particular, according to Mining Technology, Canada-based Osisko Mining had to evacuate its exploration camp at Windfall Lake, along with Vancouver's Archer Exploration company, which mines nickel and copper in the James Bay area also suspending activities and evacuating workers.
Mining companies have previously been at risk of being affected by wildfires in Canada, yet no incident has been as extensive as this. The affected mining companies have yet to report any critical impact on their infrastructure or workforce.
Canadian government officials warned that 2023 is likely to be a tough year for forest fires across the nation. The country is being affected by climate patterns which are resulting in dryness that makes the country more vulnerable to fires.