Supply Chain & Operations
Centamin raises gold reserves in Egypt mine by 1.3m ounces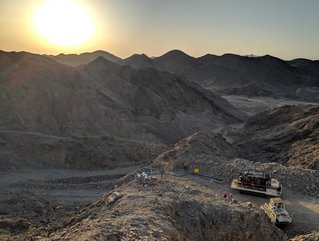 Increase represents a 13% increase in ounces after 12 months of mining depletion and is inclusive of mineral reserves
Centamin, the UK-listed gold mining company, has said that gold reserves in its Sukari mine in Egypt have risen by around 1.3 million ounces, marking the largest increase in the reserves in a decade.
In a statement, the company said that the increase represented a 13% increase in ounces after twelve months of mining depletion and was inclusive of mineral reserves. It added that the Sukari mine delivered a 5% increase in proven and probably mineral reserves, increasing to 6.0Moz at 1.1g/t Au after twelve months of mining depletion.
This included adding 0.8Moz of Mineral Reserves before mining depletion, with 0.4Moz added within the open pit at an average grade of 1.0g/t Au. This successfully replaced reserve depletion and extending the open pit life of mine to 14 years.
Meanwhile, the 4Moz added within the underground at an average grade of 3.9g/t Au, represented an 11% improvement in ounces, and further supported the plan to increase the underground mining rate to 1.5Mtpa, the company said.
Meaningful Growth
"The announcement marks the second consecutive year of resource and reserve growth at Sukari, further underpinning its status as a Tier 1 gold mine," said Martin Hogan, CEO of Centamin. "Our improved geological understanding has resulted in meaningful growth of both resources and reserves at unchanged cut-off grades.
"The open pit Mineral Reserve gain replaced annual depletion for the first time since 2015, while the underground Mineral Reserves of 1.2Moz represents a threefold increase since 2020, net of mining depletion, which further supports the planned underground expansion project.
"Aligned with our growth strategy, we have an aggressive drilling campaign across known targets within the underground and elsewhere in the Concession area. We have added nearly 2Moz of gross Mineral Reserves over the last two years and we remain confident in delivering more growth both at Sukari and across the wider portfolio."
The Sukari mine has produced more than five million ounces of gold since 2009, and Cetamin said that it plans to drill 280,000 metres underground in the concession next year.