Supply Chain & Operations
Chile to nationalise lithium industry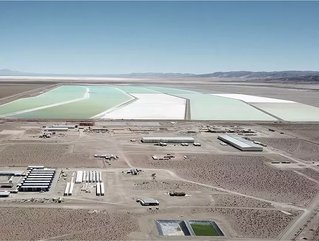 The President noted that future lithium licences will be only issued as public-private partnerships with state control
The state will partner with local companies to develop the industry
The world's second-largest lithium producing country is set to nationalise its lithium industry.
After a lengthy wait, the policy has been established in Chile to create a public-private framework, in which the government will collaborate with miners through a specialised national lithium firm. The country's copper giant, Codelco - the world's number-one producer of the metal - has been put in charge of signing up new partners to the programme.
The current lithium miners, Albemarle and SQM, will continue operating in Chile until their contracts expire. Boric expressed hope that these miners would be willing to negotiate state participation before the end of their contracts, without mentioning them by name.
Albemarle's contract, the world's leading producer, concludes in 2043, whereas SQM's agreement expires in 2030. Future lithium licenses will only be issued as public-private partnerships with state control, according to the President. No information regarding state shareholding or other ownership arrangements was provided.
Lithium demand to quadruple
Based on government projections, the global demand for lithium is expected to increase four-fold by 2030, reaching 1.8 million tonnes, while the available supply is expected to be around 1.5 million tonnes by then. The Atacama region, which also hosts massive copper mines, accounts for nearly one-quarter of the world's lithium supply.
Last year, the Autonomous Fiscal Council's statistics show that the sector generated over $5 billion for the country, equivalent to 1.6% of its GDP. According to the Chilean Central Bank, exports of lithium carbonate rose by 777% from the previous year, reaching almost $7.8 billion, surpassing salmon and fruit in the Chilean export basket.