O3 Mining Recognised For Exemplary Sustainable Development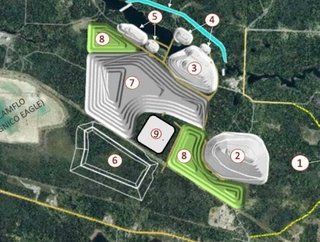 Diagram: Marban Alliance
03 Mining has been awarded the 2023 prize for Excellence in Sustainable Development by Québec's AEMQ
O3 Mining Inc. has expressed its pride in the recognition it has received for its exemplary sustainable development practices. On November 1, the Association d'Exploration Minière du Québec (AEMQ) awarded the Corporation with the 2023 prize for Excellence in Sustainable Development. Additionally, the Prospectors & Developers Association of Canada (PDAC) has announced that O3 Mining will receive the 2024 PDAC Sustainable Development Award. These prestigious awards at both the Canadian and provincial levels are testament to our commitment and dedication to continuously improve our practices, foster collaborative partnerships, and shape the responsible future of exploration and mining.
Team of industry leaders
O3 Mining is a gold explorer and mine developer on the road to produce from its highly prospective gold camps in the Province of Québec, Canada. The company benefits from the support and expertise of a team of industry leaders as it grows towards becoming a gold producer with several multimillion-ounce deposits in the Province. The company is well-capitalised and owns a 100% interest in all its properties (73,000 hectares) in Québec. These include for example the Marban Alliance project located in the western portion of the province of Québec, mid-way between the towns of Val-d'Or and Malartic and comprises 65 mining claims covering 2,189 hectares. Marban Alliance is currently in the development stage of techno-economic and environmental studies. Current studies project a mine life of 9.6 years, with average annual production of 161,000 ounces. Total estimated resources for Marban Alliance are 2.6m ounces of gold.
A leader for the industry
Commenting on the awards, O3 Mining's President and CEO, Mr. José Vizquerra, observed: "As an exploration and development company, we prioritise environmental, social and governance (ESG) practices in our strategy. We are honoured to receive these sustainable development awards from PDAC and AEMQ, which recognise our ongoing efforts to develop our projects responsibly. We are more determined than ever to serve as a positive and inspiring leader for the industry and our peers.
"These awards of distinction reflect O3 Mining's unwavering commitment to responsible mining practices and innovative approaches to sustainable development. Our investments of over C$2.3m in 2022 in ESG best practices and our UL 2723 ECOLOGO certification make us the first mining exploration company to achieve full certification, demonstrating the strength of our commitment."
Myrzah Bello, Vice President, Sustainable Development and Human Resources at O3 Mining, added: "These recognitions are possible thanks to the contribution and collaboration of our employees and partners, as well as the unwavering support of the Corporation's Board of Directors, which prioritises sustainable development. We are convinced that our projects are promising and can be integrated positively and sustainably on a local and regional scale.
"We are aware that the practice of sustainable and responsible development in our business is constantly evolving, requiring ongoing commitment and reflection. We receive these awards as an incentive and encouragement to continue our ESG efforts. We will continue to work with all our stakeholders to create a sustainable future while building the projects of tomorrow."