Supply Chain & Operations
Perpetua Resources to sign USA Department of Defense deal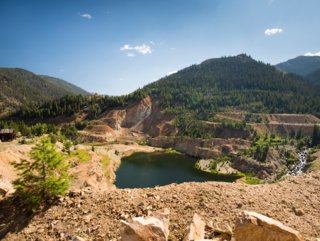 Stibnite site in central Idaho
Perpetua's Stibnite Gold Project is to be the only domestically mined source of the critical mineral antimony which is essential for national defence
Perpetua Resources has signed an agreement to test a munitions grade antimony trisulphide supply chain using ore from its Stibnite site in central Idaho.
A reliable and secure supply
The Department of Defense (DoD) requires a reliable and secure supply of antimony trisulphide for primers in hundreds of munition types, including small and medium calibre munitions, mortars, artillery, mines, flares, grenades, shoulder launched munitions and missiles. Antimony trisulphide is derived from antimony (a listed critical mineral), and there are no domestic sources currently in the USA. Nearly all the antimony resources worldwide are controlled by China, Russia, or their interests, making the antimony supply chain opaque, fractured, and unreliable. Often used for its unique fire retardant and metal strengthening properties, antimony is essential to many technologies, energy and defence applications. Yet, with no domestically mined source and an unstable global supply, the U.S. Department of the Interior has classified antimony as one of the 50 critical minerals.
Announcing a Critical Minerals award under the Defense Production Act (DPA) of up to $28.4m in December 2022 the DoD stated: "Perpetua's Stibnite-Gold Project produced antimony trisulphide for the U.S. ammunition industrial base during World War II and the Korean War, and it is the only domestic geologic reserve of antimony that can meet DoD requirements."
Expanding the partnership
Commenting on the further award this month, President and CEO of Perpetua Resources Lauren Sayer, said: "We are excited to expand our partnership with the DoD and are proud to help demonstrate a fully domestic supply chain solution for the ammunition our troops need to keep our nation and our allies safe. Our vision remains unchanged, which is to redevelop a world class gold deposit, provide the country with the critical mineral antimony, and restore an abandoned brownfield site. Perpetua is ready to be part of the solution and support our country's defence supply chains from ground to round."
The Stibnite Gold Project utilises the significant gold reserve of 4.8 million ounces to enable the production of the 148-million-pound antimony reserve, which otherwise would not be economically feasible to recover alone. The strategic need to secure a domestic supply is very clear. However the project was also designed to provide solutions for legacy environmental conditions left behind decades earlier. The project integrates clean-up activities into the mine plan and will improve water quality, terrestrial habitat, wetlands, and river conditions.
Antimony trisulphide is essential to the USA's national defence as a key component for munitions as well as being used in safety matches, fireworks and pigments. Currently, China, Russia and Tajikistan control around 90% of the world's supplies and the United States has no domestically mined source of this critical mineral. Perpetua plans to re-establish a domestic supply as a by-product of one of the highest-grade open pit gold resources in the United States.
Antimony from the Stibnite Gold Project will support the clean energy transition too. A portion of the antimony from Stibnite will go towards the development of the US-based long-duration clean energy storage battery being developed by Ambri. The project will provide more than 500 direct jobs in rural Idaho and upgrade 72 miles of transmission line.