Supply Chain & Operations
Way clears for Newmont to Acquire Newcrest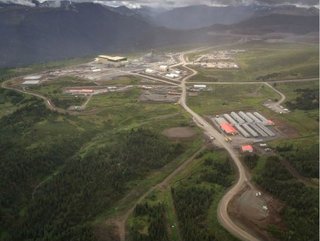 Newcrest's Red Chris mine, British Columbia
Two of the largest global gold mining companies will join forces to create a world-class portfolio of gold and copper assets
In May 2023 Newmont and Newcrest entered a definitive agreement, by way of an Australian Scheme of Arrangement, under which Newmont would acquire 100% of the issued shares in Newcrest Mining of Australia. In an important step forward the Australian Competition Regulator has now given clearance for the acquisition to proceed, and Newmont expects to close the transaction in Q4 of this year.
Tom Palmer, President and CEO of Newmont, has commented that: "The combination of Newmont and Newcrest represents an exceptional value proposition for shareholders and other stakeholders. It creates an industry-leading portfolio with a multi-decade gold and copper production profile in the world's most favourable mining jurisdictions. Following a robust due diligence process, we have identified a number of opportunities to unlock substantial value and will apply our experience and expertise to Newcrest's complementary and exceptional portfolio of long-life, low-cost gold and copper assets. Leveraging our experience from the acquisition of Goldcorp four years ago, we are positioned to deliver an estimated $500 million in annual synergies and an estimated $2 billion in incremental cash flow from portfolio optimization opportunities, both part of our strategy to maximise value for shareholders and other stakeholders."
Newcrest has assets in many key jurisdictions including Papua New Guinea (PNG), where Newmont is now planning to establish an office. In Australia, Newcrest has focused on its Havieron and Telfer gold/copper sites in the Pilbara region as well as Cadia in New South Wales, one of Australia's largest gold mining operations with an additional revenue stream from its molybdenum plant. Also key to Newmont's growth, the Newcrest gold and copper sites in Canada's British Columbia, the region known as its Golden Triangle. Brucejack is one of the highest-grade operating gold mines in the world, and it offers considerable scope to realise resource and reserve growth.
The New Sustainability Standard
Over the past eight years, Newmont has been recognised as the top gold miner in the Dow Jones Sustainability Index, and regularly ranks as the most transparent company for sustainability disclosure in the S&P 500. Beyond Newcrest's well-established sustainability credentials and top quartile industry ranking, Newmont will apply its proven sustainability practices and leadership to Newcrest's assets by bringing a clear focus on mitigating safety risks to drive a fatality-free business; building on Newmont's sustainability leadership and commitment to meaningful social engagement; and remaining committed to the company's leading environmental stewardship practices and climate goals. Supported by the Newcrest portfolio, Newmont expects to be in a position to generate strong, stable and lasting returns with best-in-class sustainability performance, well into the future.
Yearly gold and copper yields
The combined operations are projected to deliver more than 5m gold ounces, or two-thirds of total gold production, from 10 large, long-life, low cost, Tier 1 assets in addition to combined annual copper production of approximately 350 million pounds from Australia and Canada. It will generate an extensive portfolio of greenfield and brownfield growth options from the industry's largest reserve and resource base with 96m ounces of gold reserves declared by Newmont and 52 million ounces by Newcrest, along with 111m and 68m ounces of gold resources respectively. Newmont says that a significant majority of the combined entity's gold reserves will be located in the Americas and Australia, with value-generating projects across some of the world's most prospective regions including Canada's Golden Triangle.