Komatsu's autonomous system to operate at Chile copper mine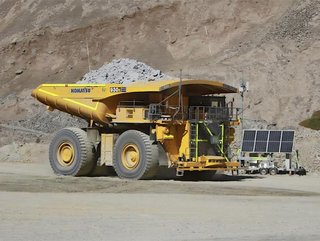 As Los Bronces - owned by Anglo American - will be a showcase for Komatsu's autonomous technology, robotics firm Teleo receives $12mn Series A funding
Komatsu's FrontRunner Autonomous Haulage System (AHS) is to be deployed on 62 930E ultra-class haul trucks by 2024 at Los Bronces, a Chilean open pit copper mine owned by global mining company Anglo American. The mine site will serve as a showcase for Komatsu's autonomous technology.
Cristobal Mimica, mine modernisation manager Los Bronces, Anglo American, said he looked forward to the opportunity to leverage FrontRunner AHS to help optimise its mine operations at Los Bronces, as he was "convinced that technology is an enabler to improve the way we work and move toward a safer and more sustainable operation".
FrontRunner AHS is designed to help mines increase production while promoting zero harm, said Anthony Cook, vice president for Autonomous Systems at Komatsu. "We look forward to continuing to collaborate on future optimisation opportunities."
Komatsu FrontRunner is a well-proven system, with over 525 trucks deployed since its first commercial deployment in 2008 at CODELCO's Gabriela Mistral copper mine in Chile. Komatsu's approach for FrontRunner AHS brings together its ultra-class dump trucks with the industry-leading Modular Mining DISPATCH Fleet Management System.
The essential minerals needed to power modern society are getting harder to find and tougher to mine, and customers trust mining companies to deliver these resources. Komatsu focuses on helping mining companies meet those needs productively and responsibly.
As part of the company's goal of achieving carbon neutrality by 2050, Komatsu has increased its focus on advancement of sustainable technologies, equipment and service solutions that will help customers achieve safe, highly productive, smart and clean workplaces for the future.

Komatsu develops and supplies technologies, equipment and services for the construction, mining, forklift, industrial and forestry markets.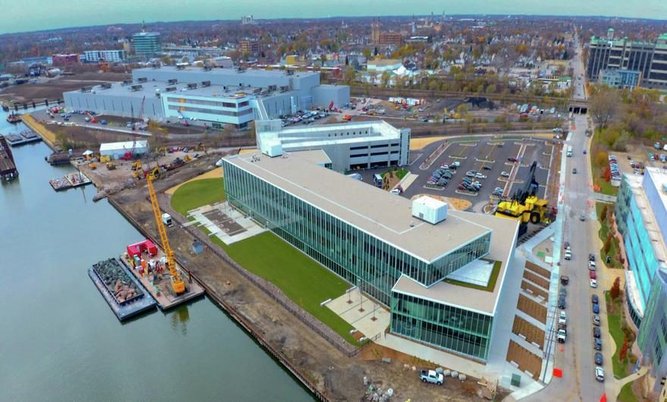 Komatsu's LEED-certified office building combines sustainability and mining manufacturing
Komatsu's 180,000-square-foot office building is part of a new corporate campus nearing completion in Milwaukee's Harbor District, south of the city's downtown area. Designed to reflect the company's focus on sustainability, the office building received LEED v4 Building Design & Construction (BD+C) Gold certification from the US Green Building Council.
The LEED program is a globally recognised symbol of excellence in green building and its certification helps to ensure electricity cost savings, lower carbon emissions and healthier environments. The South Harbor office building is the only LEEDv4 BD+C New Construction (NC) Gold project in the city of Milwaukee and is the highest-rated LEEDv4 BD+C in the state of Wisconsin.
Also part of the campus is a 430,000sq ft manufacturing facility that recently began operations. The facility produces the major components of large mining machines, including electric rope shovels, hybrid shovels, draglines and blasthole drills. The location serves as the large gearing center of excellence and the large fabrication and machining center of excellence for Komatsu's global mining division.
Teleo receives $12mn Series A funding
Construction robotics company Teleo - which retrofits construction and mining heavy equipment and turns them into semi-autonomous robots - has raised $12mn in Series A funding led by UP Partners.
F-Prime Capital and K9 Ventures also joined the round, as did Trucks Venture Capital, who led their seed round, along with several angel investors. This funding will enable Teleo to scale the deployment of their product and further invest in R&D in Teleo Supervised Autonomy technology - thereby addressing critical industry challenges around the skilled operator shortage and low productivity.
"With this Series A funding, we plan to double down on hardening and deploying technology that lets our customers operate their existing fleets of heavy equipment semi-autonomously," said Vinay Shet, Co-Founder and CEO of Teleo, which lets construction and mining contractors run their heavy equipment without an operator in the cabin.
With Teleo Supervised Autonomy technology, the operator can control multiple pieces of equipment while sitting at a remote control station. This significantly enhances safety and productivity.
"Teleo was founded by two exceptional individuals, with extensive backgrounds in deep technology and autonomy," said Adam Grosser, Chairman and Managing Partners of UP Partners.

​​​​​​​"We believe their approach to bringing human supervised autonomy to the heavy equipment market is incredibly insightful and important. Teleo's technology positively impacts the ROI of operation, while both upskilling the operator community, and increasing safety levels."